I'm very excited to say that I have now set up event pages for each of the book launches!
So I am very happy to now officially invite you!
Please come along and help me celebrate the publication of "Needs Adult Supervision".
The launch is free. Everyone is welcome. Please be aware some of the language might be spicy but tamariki are welcome if you're not worried that I might slip up and swear because I often do.
Please wear a mask and do not come if you're unwell. I am hoping to bring my whānau to our home event in Te Whanganui-a-Tara, so please take a RAT before coming if you think you might have been exposed to Covid 19.
Te Whanganui-a-Tara Wellington:
Wednesday 7 September @ 6pm – Meow | 9 Edward Street Wellington. Facebook event.
The bookseller is: Good Books Wellington.
Tāmaki Makaurau Auckland:
Tuesday 13 September @ 7pm – The Tuning Fork | The Tuning Fork is located in Spark Arena, 42/80 Mahuhu Crescent, Parnell, (Parking is limited). Facebook event.
The bookseller is: The Women's Bookshop.
Ōtautahi Christchurch:
Saturday 17 September @ 6pm – UBS Canterbury | University Drive, Ilam, (Free parking outside). Facebook event. RSVP: ubs@ubscan.co.nz.
The bookseller is: UBS Canterbury.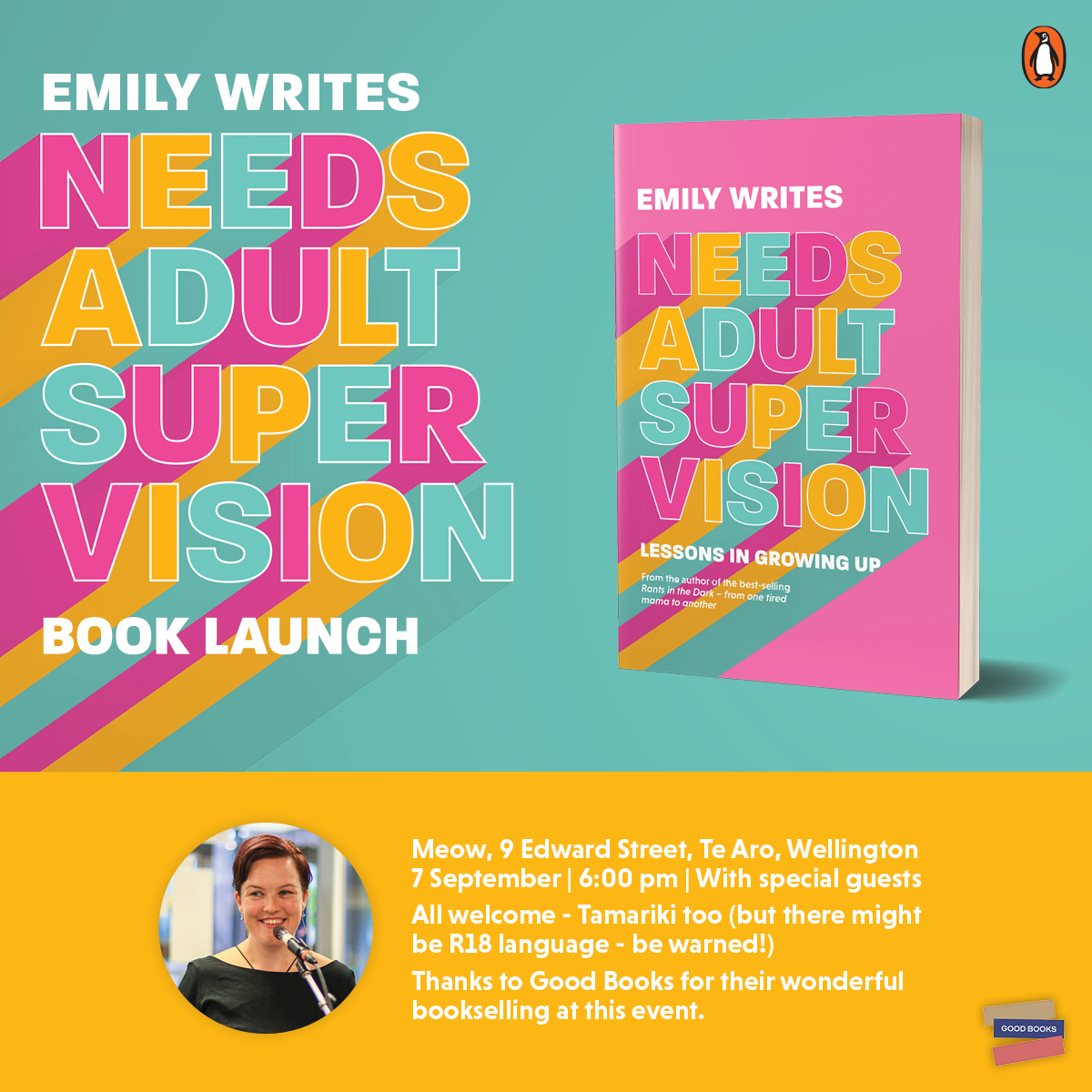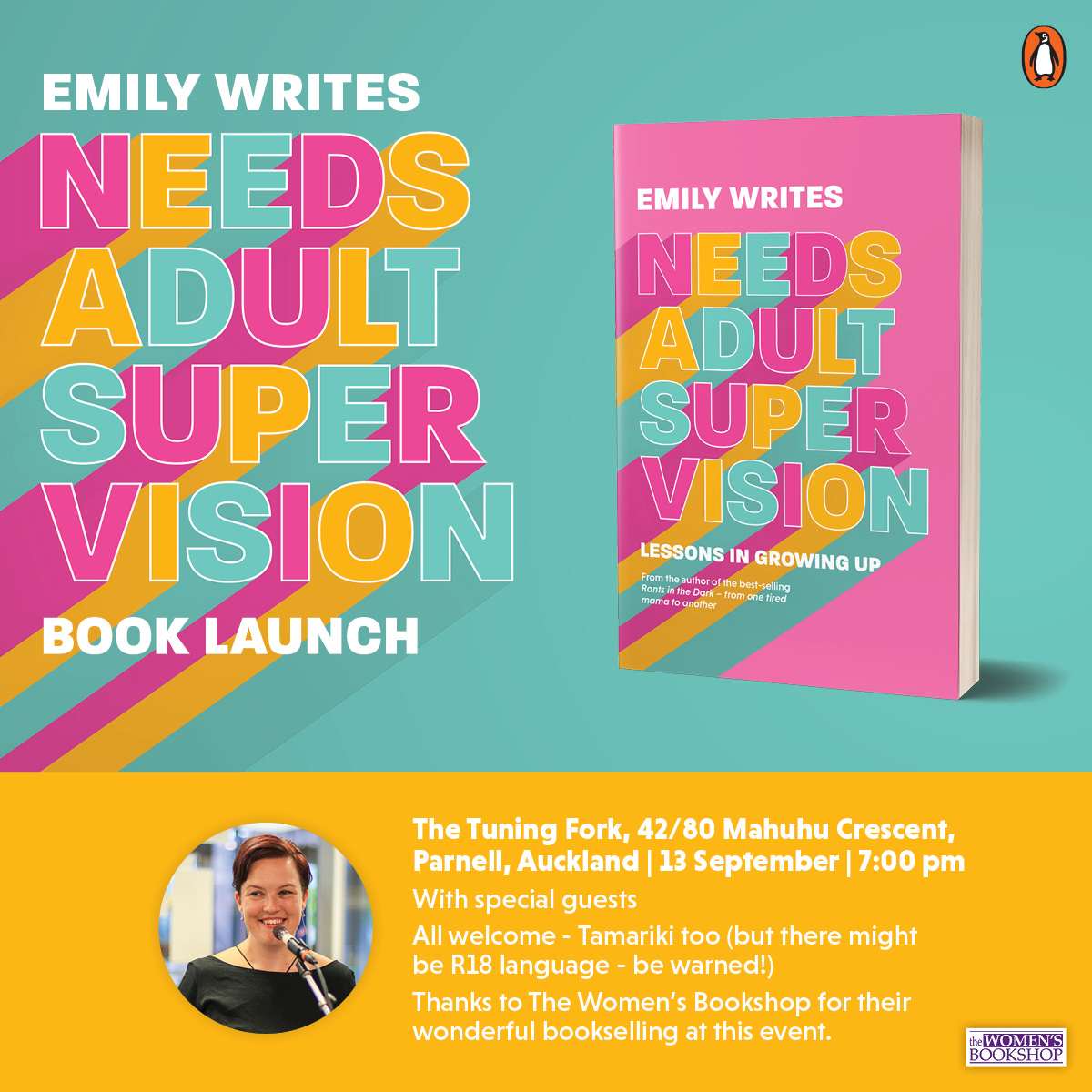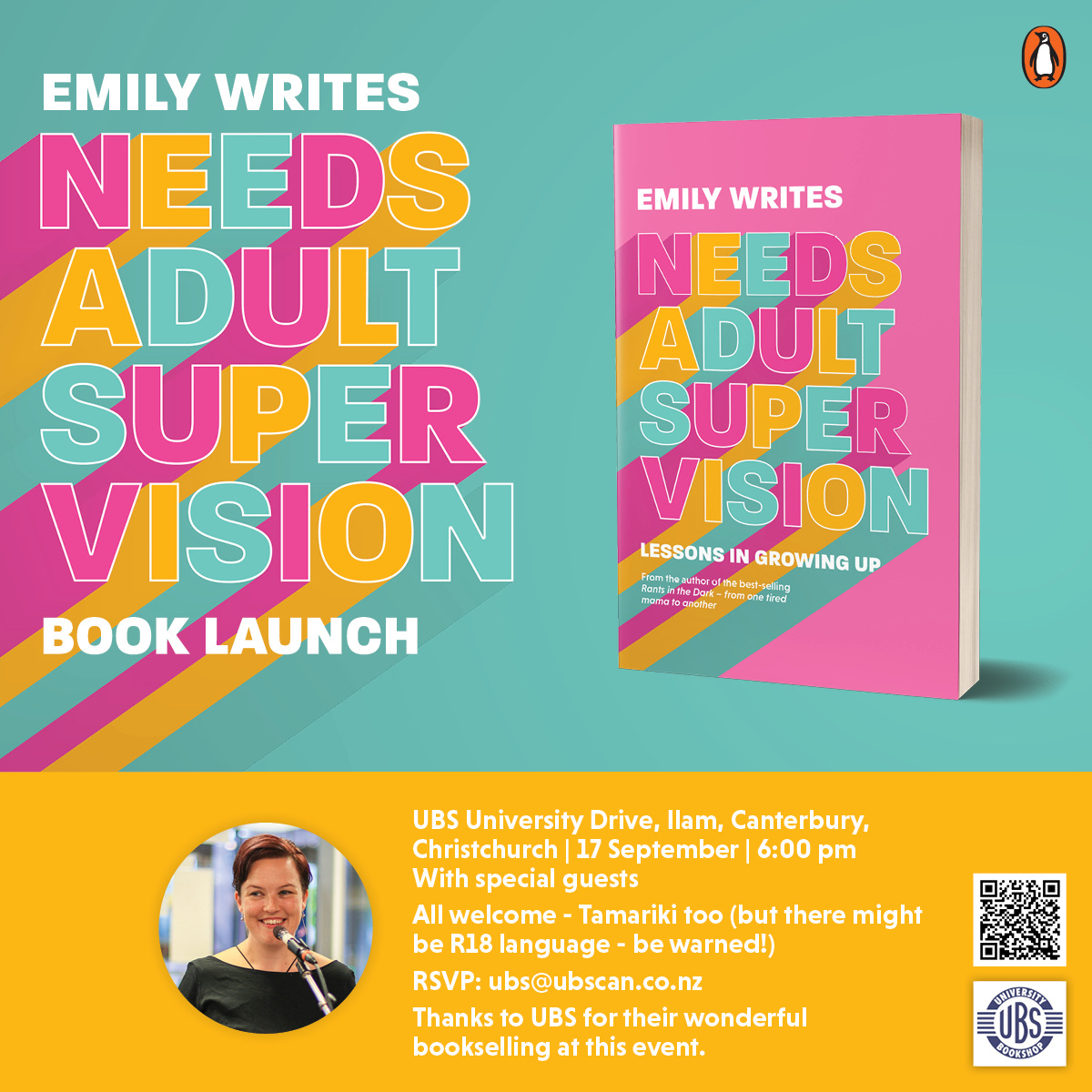 ABOUT NEEDS ADULT SUPERVISION:
Ever thought 'I wish there was an adult around', then realised you're the adult? Emily Writes, best-selling author of Rants in the Dark, shares stories of growing up as your children grow up.
Needs Adult Supervision is Emily Writes' take on growing up and feeling like a real adult. This book looks at the growing pains of kids and their parents and their attempts to navigate a world that's changing by the minute. Emily paints a vivid picture of all the feelings, fortunes and failures that come with trying to parent when you don't always feel up for the task. What it feels like to be learning at the same time your kids are. What happens when we get radically honest about the challenges parents are facing.
In Emily's inimitable way it's incredibly insightful and hilarious, and leads to the odd tear being shed along the way.
From trying to convince your child's teachers on Zoom that your house isn't falling apart around you, or staging a funeral for a sea creature, to rescuing a dog that rescues you – Emily's stories will have you reflecting on what it means to grow up.
Funny, sad, thoughtful, inspiring and ultimately up-lifting for parents at all stages of life.
---
I really hope you can make it. I am very nervous people won't come so please come! I will be forever grateful. Travelling to Tāmaki Makaurau and Ōtautahi and getting accommodation is expensive and so I am taking a bit of a risk – so please come on out!
Please tell your friends!
Arohanui, Emily