Posted on December 14, 2015
Dear Mama Likes: BaBU and The Wooden Toy Box
I'm sorry I haven't done a gift guide. But I really don't want to think about gifts. I am not feeling very domestic at the moment. I'd be lying if I said I was making little edible reindeer hooves out of crushed pistachio and chocolate raspberry brittle.  The other day I ate a plain bit of mostly stale white bread that was sitting on the bench because I was so starving from 24-7 feeding the tiny tyrant who has been sick for the last 82 million years.
Eat your heart out Pinterest.
In terms of gifts – I bought Mr B a voucher from Grabone for a fishing trip and Eddie is getting one of his toys re-wrapped because honestly, he won't notice, and he will be spoiled enough by his grandparents AND hello – Ice cream emporium!
Ham will get my tits because lets face it – that's all he wants for Christmas and they're not serving any other purpose right now (or ever by the state of them).
I have some vague plans to buy some cheap plant pots and I'm going to let the kids at them with some paint and then the husband will put some herbs in each one. Viola. Happy Holidays – here are some herbs to watch die on your window sill. As they slowly waste away, think of the bleakness of life and the fact that we will all eventually die.
That's what you're here for right? So aspirational! Let's be honest- it's highly unlikely I will somehow make this pot thing happen a week (or whatever it is) before Christmas. But it's the thought that counts. I thought I would get you a present (but I didn't).
It's hot! Summer is here! Isn't summer great! (How's that for – as my dim uncle would say – "a Segway").
BaBU is a super cute company with super cute baby gear and they sent me a Summer protection pack (here's their summer range). It was around the time that I wrote my rant about swaddling and when I saw the beautiful Big BaBU Wraps in the pack I wondered if I could use them to get Ham out of the swaddle.
The wraps are a blend of organic cotton and merino – they're soft and they breathe. So they're perfect for the hot weather (which is just one of the reasons why we are trying to get Ham out of the demon swaddle).
But – Ham immediately tried to furiously bust out of them like the Hulk if the Hulk was pink and sweaty and Ham-like. So, they weren't used as a transition swaddle. Instead we have used them for almost everything else!
We've found that the whole family is into them – Eddie loves them because they are just right -he's very picky about textiles (I know, I know – this quote will be used when he's a famous (infamous?) fashion designer I'm sure). They must be soft and not scratchy. And not too hot. And cuddly but not too cuddly. Just like his food needs to be white but not white. So the wrap has become his TV blanket and he also snuggles it in bed. He has built a fort with it and also swaddled TeddyBear with it (and put his hands on his hips and stared at the roof and yelled "GOR GIVE ME STRENF!" – I don't know where he gets that from)
It's great to cover the Ham when we are out and about. I have the most pale Māori kids in the world. They're almost translucent. So keeping them covered 24-7 in Summer is a top priority.  Skin that fair burns fast. The wrap is light enough to cover Ham without overheating him. I've also safety-pinned it to the buggy which works well.
It's lovely stretchy material and it's really big. I have so many baby blankets but they're all too small or not breathable or too thick. These wraps are the best I've come across (which is why I'm reviewing them).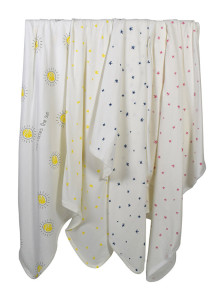 They're also really easy to wash.  I didn't actually read the washing instructions because I'm a rebel who follows no rules – or I'm just super lazy. So whether or not you're meant to – I just chuck it in with everything else in the wash on whatever cycle it's on at the time. And they still look great. So they're certainly durable.
Finally, the pattern is cute and ummm trendy? It looks a bit like something the Princess would use. Which is probably the only crossover I would have with a princess. Or is she a duchess?
I would rather be a princess than a duchess. A duchess just makes me think of one of those fluffy dogs that shits inside and wears a sparkly collar.
Where was I?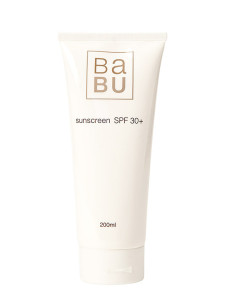 I also got some BaBU sunscreen. And I really like it. I used it for the first time at our big Welcome Summer BBQ. Our annual event (I've just decided it's annual) was full of kids this year. Eddie got naked immediately because why would you wear clothes if it's a party. And I needed to cover him head to toe in sunscreen – something he felt he shouldn't have to stop moving for. So The BaBU sunscreen wasn't as great as the spray on stuff because you have to rub it in. Trying to rub sunscreen into a hyperactive, naked toddler on the run is very hard. It was like trying to catch a greased up piglet.
Eddie loved it and asked for the "nice smelly stuff" the next day but I don't know that I'll be using it on him again. Instead I'm using it on myself and the baby.
It smells delicious. And it's a great moisturiser. So I've been wearing it every day. I am freckly as Hell and I don't want to get cancer, so I've always needed to wear sunscreen on my face every day in Summer. BaBU is the first sunscreen I've found that I really like. Also, the first few times I wore it the people around me kept saying 'oh that's a nice smell' which is far better than the 'what is that smell' accusation I usually get when I'm with my kids (Ham saves the worst poops for social occasions).
It's great for babies. I give Ham a little massage when I put it on him and he loves it. It's not sticky which is great.
It is 30+ SPF factor and is made up of coconut oil,  jojoba, evening primrose oil and papaya fragrance (that'll be why it smells so delicious). There's some more stuff on the website about the ingredients and what BaBU says the benefits are for using those ingredients. I'm of the belief that all sunscreen is safe so that's not a selling point for me – but here's more info if you're interested.
But there is another reason to love it – it's made in New Zealand and by buying it you're supporting a New Zealand business. BaBU was started by Kiwi mum Alison Hui in 2002. Supporting small businesses that are NZ-owned and run is an important thing to do – especially around Christmas time.
And if you sign-up to the BABU newsletter and they'll give you a permanent 15% OFF everything in store – even on items already on sale! This week is free for freight too!
BaBU is on Facebook and instagram.
The Wooden Toy Box
Now, you might remember a while back I posted a video of Eddie playing with a digger from The Wooden Toy Box. They sent me another really cool toy – An Ice Cream Emporium!
The Ice Cream Emporium is pretty incredible. It's one of the newest toys on the site. I'm yet to see a child not lose their mind over it. Eddie certainly did. And it's been THE FAVOURITE ever since we unveiled it.
He loves the scoop and being able to put the ice cream into the cones. The ice creams (and juice, milk, and ice blocks) that go with the cart are really beautifully done – they're great quality. I adore wooden toys and The Wooden Toy Box has the best selection. Eddie also loves the blackboard on the front and being able to change the name of his shop "Eddie's ice cream shop" quickly became "Poo City".  He also likes dragging it around (it wheels easily) and putting the side table up and down.
It's sturdy too – he's been banging it around and it's still in good nick. At our BBQ the kids all took turns playing with it and serving each other and the guests ice cream. It really is an impressive toy. And delivery is free!
As he says in the video – "it's my best one dat I ever see!"
So check it out – here's Eddie playing with his Ice Cream Emporium and strictly enforcing good manners on the Ham.
One of the things I like about The Wooden Toy Box (other than their great toys) is that they do their bit for the environment. In their words:
We are conscious of our own carbon footprint, and that of our suppliers, and we make every effort possible to do our part for the environment. We offset our carbon emissions using some of the Carbon4Good carbon offsetting options. That is why we are selective of the products we provide and the suppliers we work with.
Great to see a New Zealand company doing this. You can follow The Wooden Toy Box on Facebook for updates on new toys.
Reminder: I wasn't paid for these reviews! If I'm paid for content I'll tell you. Feel free to send me products but I can't guarantee I'll write about them. Let's talk – emilywritesnz@gmail.com.