Giveaway: Family pass to Mister Maker and The Shapes Live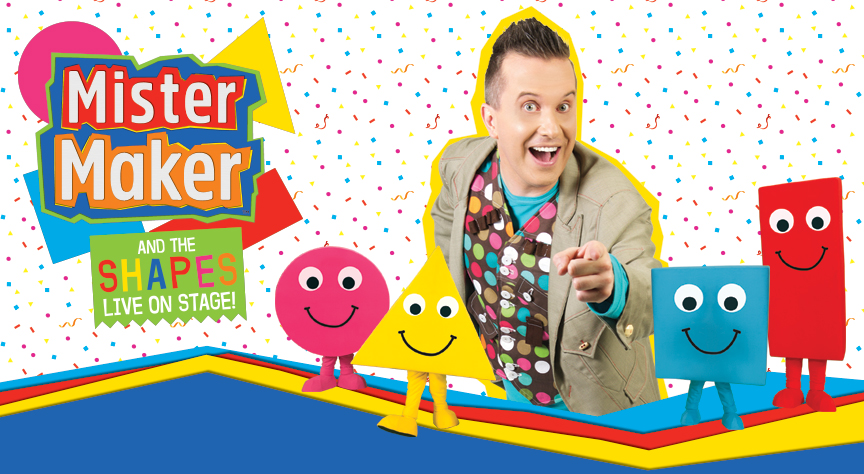 I was offered an interview with THE Mister Maker. I declined because I am dying under the weight of ALL THE THINGS. But I did think about asking him where he gets his relentless energy from. Does he just wind down at the end of each episode? Nobody can sustain that level of enthusiasm. It's just not possible.
Instead of talking to Mister Maker (or one of The Shapes) I'm giving away a family pass to a Wellington show of Mister Maker and The Shapes Live.
This is Mister Maker's first New Zealand tour. His first live theatre show here. So it should be a goodie. The show certainly lends itself to a live show. I'm really looking forward to it. My son is a Mister Maker fan and I spend a lot of my time saying "Yes, that's wonderful but we are not making it inside".
I like to sit my son in front of the TV and put on an episode of Mister Maker and call it "art time". That way I can feel smug and say that my child does like six hours of arts and crafts a week.
Here are the tour details. And you can buy tickets for your mini makers here.
Tour dates
Friday 8 July to Sunday 10 July at Auckland's Bruce Mason Centre

Tuesday 12 July to Wednesday 13 July at Christchurch's Aurora Theatre

Friday 15 July to Sunday 17 July at Wellington's Opera House.
I'm giving away a family pass – two adults, two children, or one adult, three children for the Wellington show on Saturday 17 July at 1pm. THIS COMPETITION HAS CLOSED. Congratulations Sara Tuki Pascoe.
Here are some quotes about the show:
'Mister Maker Live is like going to see Robbie Williams in concert whilst he does art and craft! What a superb family show and great audience participation!' – MummyFever.co.uk
'Hilariously funny and inventive live show full of clever crafty makes, singing, dancing and audience participation.' Derby Telegraph
The show is genius' 'Brilliantly put together, with sections flowing seamlessly from one to the next, full of fun and energy, and with lots of laughs this is a fabulous show' – South London Press