Posted on October 6, 2015
GUEST POST: Long-haul with a toddler: It's a privilege
Today's guest post is by Katie. I really admire Katie – she does a lot of work that gives back to her community. We met through voluntary work and I've always been inspired by her commitment and drive. She sent me this post and really wanted to make sure it was framed the right way. Some of us have a lot of privilege as parents, as people, it's important we recognise that and acknowledge the way that we look and live and work in this world with that privilege. We must acknowledge it and be better, do better, challenge ourselves always – to give back, to signal boost, to use our privilege as a platform but not to drown out other voices. Sharing stories is important – particularly when they're about the way we view the world through the lens of race, ethnicity, gender, class, and ability.
Katie has a blog The Rom Blood where she writes about her search for identity in tracing, exploring, and embracing her Romani ancestry, heritage, and culture. I encourage you to read it. And to read this post – and think about your own privilege.
"I can't imagine anything worse".
"Good luck with that!"
Long-haul flights with a toddler. Not for the faint-hearted.
In the lead up to our month away people ask only about the journey. I become fixated too. The last time we travelled our son was under a year old. He slept less than he vomited. When I ring the airline and realise we forgot to confirm our seats I almost hope that the three of us aren't sat together. Then we're not. There are not even two seats available together. I laugh. The line is silent and I realise that he isn't joking. Five minutes later I have used up all of my reasonable arguments as to why my two year old should not be separated from his parents on a 30 hour flight and I am feeling anything but reasonable. Then the agent realises that we have a gold membership card and suddenly the plane has grown by three seats and we can all sit together. I hate this more than the idea of being separated.
People have a lot of advice about how to amuse toddlers during the flight. My toddler seems to have more toys for these 30 hours than he has at home. Miniature versions of course. Teeny tiny dinosaur figures, mini pencils, mini headphones, tiny books. All encased in the new Gruffalo trunki that doubles as a ride-on/pull-along toy.
We drip-feed information about how we are going to live on an airplane – sleep on the airplane, have breakfast, lunch and dinner on the airplane. We look at his globe and the journey that we will take. To a 2.5 year old this sounds like an amazing adventure. It is an amazing adventure. He is excited. I am smug at my preparation. Then we walk to our neighbour's house and he asks if we are in England yet. Bugger.
The first flight (only an hour) and we're winning. No dramas, no delays. Obligatory 'UK here we come' with a plane in the background photo on Facebook. Check. The likes are coming in.
We get on the first of our overnight long-haul flights (this one to LA) and we're ready for it. Pyjamas on. Favourite bedtime books in the seat pocket. Warm milk at the ready. Toddler flanked by a parent either side to insulate the other passengers. He is part dinosaur at the moment after all. But I needn't have worried. For the moment the novelty of his own TV screen and the magic of sound coming out of his new headphones is enough to send him into a trance. Score.
I stand in the aisle trying to stretch my achy muscles. A few sun salutations would be great right now. I stretch my arms over my head. It's not enough. I have that exam room feeling. Something you have (or should have) been preparing for ages and now the moment is here. Shit. Why does it have to be now?
My thoughts wander and suddenly it strikes me: it's a privilege to travel long-haul with a toddler (I totally appreciate that this feeling of privilege may diminish if you travel with more kids and fewer parents…).
I feel like a jerk. We are facing one of the biggest crises of our generation and there are hundreds of thousands of other families on the move right this minute. There are so many in fact that they've lost their humanity and are referred to as a 'swarm of migrants'.
Now, when you use the term 'migrants' we fit into that category very nicely. A love of New Zealand and redundancy in the UK and we went in search of greener pastures because we could. Our education, our work experience, our privilege, means that we can move to another country because we want to, and we can travel back to see our family as much as we can afford to. Let's get it straight – these people are not writing a pros and cons list of Wellington versus Auckland – they are refugees.
I imagine that these families also spent a lot of time thinking about the long journey ahead of them. But rather than googling the latest and best apps for sedating a small child for a few hours, I'm thinking their priorities were perhaps more about survival. How? When? Where? How much? Will we ever be able to come back?
We're going through LA. I bet the security will be tight. They'll be queues. We'll have to get our liquids out – all in miniature in their plastic see-through bag. Out will come the laptop, the iPad, the kindle. Oh what a pain that will be. In fact it is now that our son decides to become interested in gender.  At any other moment I would have been delighted. He says to the young, short-haired, male US customs officer: "You're not a man – you're a lady". I look up and his stony face tells me that this is not that moment. I manage "Two year olds eh". He studies our passports for what seems like forever.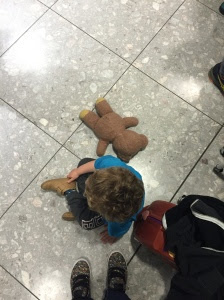 This half an hour of stress must be laughable to a family of fleeing war with just the clothes on their back. At least there is no annoying safety video to sit through. No seatbelt sign. But health and safety surely the only things on your mind as the ocean swell grows and you are thrown relentlessly against others in the boat; a swarm of bodies stiff with gripping. Onto the boat, onto others. Grips slipping, tightening, grasping. Wondering when this hell will end.
Wondering when the journey will end is a familiar feeling. We're on our second long-haul flight and it's dragging. Have I just slept for 10 minutes or three hours? How long until we land? What time is it where we left, where we took off from or where we are heading? Oh look – I can see the airplane plotted on my personal screen: It's location, time to destination and even ideas of how to amuse myself once I get there. My biggest issue is that the new season of Game of Thrones is available and that I'm sat next to my two year old who can see my screen. I can't lie that I wasn't tempted, but I restrain myself until he is asleep. He sleeps and I catch three episodes. Get in.
We've landed in London. I sigh with relief. It was touch and go for a while when I decided surgical intervention was required to separate my son from his headphones so that he would sleep (and I could watch Game of Thrones ;-)), but we've made it. I am suddenly aware of everyone around me as there is a collective sigh and someone says "wasn't he good?". In response my son ROARS at the top of his lungs and we all laugh. Yes people, it could have been much, much worse.
Welcome back to the UK. If there's one thing I haven't missed it's queuing. Twenty minutes for a lift to go down one floor with our trolley of suitcases. Sigh. After 30 hours of travelling somehow this is a lifetime. We escape the airport only to face a queue for the hire car. It's out the door, and after an hour of queuing I realise it is also the length of long room once we're inside. The premium section has three employees and no queue. After 30 hours I'm not exactly reasonable, but soon we are out of the door with an upgrade. Get me.
I feel sick. Not as sick as my son is for the five hours of driving in public holiday traffic from the airport. But sick nonetheless. I pushed my privilege with threats of complaint so that I could get to my family an hour or so earlier. It makes me think about what I would do if the journey was life or death for my family. I surprised myself at what I was like after travelling for a day and night. I was rude. I lost it for a minute. If my family was in danger I would certainly be willing to do more than just threaten to complain. When we see 'desperate' actions of refugee families on the news can we really comprehend what they are facing? It's all well and good for me to sit here trying to imagine, but that's all it is – my imagination. People should be allowed to tell their own stories. If you are interested Humans of New York are facilitating people to do just this.
We arrive. Phew! It's a few hours later than we hoped, but we're here. There are hugs and tears. "Haven't you grown little one?! How was your journey? I bet it was terrible. I can't think of anything worse. Everything here is pretty much the same…But have you heard the news of all those migrants trying to come over here….."