Posted on August 29, 2016
I asked Chris from Hi-5 some terrible questions
I was talking to my husband and I said "I've been asked to interview Hi-5" and before I could say anymore my three-year-old started screeching at me. Because he had just so much to say about his best most favourite "TV people" ever I figured he could come up the questions while I sat back and drank wine. He came up with these hum-dingers and I thought it was hilarious that Chris from Hi-5 actually answered them. Well done. My son is very happy. His questions and responses are in bold (I mean obviously, they're very – three year-old – type questions).
Do you like marbles?
Yes. Love them, I used to have a pretty big collection but I gave them to my little brother as a present.
I have a little brother I don't have a little sister I have one marble and it is red. What is your favourite colour?
I have two favourite colours – purple and red!
My favourite colour is green and also my nanna's favourite colour is green and also my mama's favourite colour is black and my daddy doesn't have a favourite colour he loves all of the colours and red and purple like you and green and kakariki is green. What month were you born?
June.
My name is Eddie. I am September. Do you like the song Yellow Submarine and do you like the Boo Hoo song from Songs for Bubbas 2?
I have been learning to play Yellow Submarine on the Ukulele and I love singing it with a funny voice. Unfortunately I don't know the Boo Hoo song, boo hoo hoo. Hehe, maybe you can send it to me?
Don't do a funny voice. Did you have a birthday party and what did you do?
On my birthday, my Hi-5 family brought a big yummy cake onto the stage during our concert in Singapore. Then, all the boys, girls, mums and dads in the audience sung happy birthday to me. Afterwards we all ate lots of sausages and sung fun songs together. It was the best birthday ever!

I love sausages too I love chicken nuggets I'm having a Mister Maker party I am three I'm fun songs (?) when I'm three I'm birthday (?) and I love hats and it's my birthday when I'm four and my friend Vally is coming and my friend Kōwhai is coming and we all love sausages and chicken nuggets especially Kōwhai does she loves chicken nuggets and Indie loves popcorn and so does Vally.
Then he wandered off to look for his marble. Luckily I had some actual questions. Things we probably need to know. Though I think I missed an essential one which is "Is there a bar at the show?"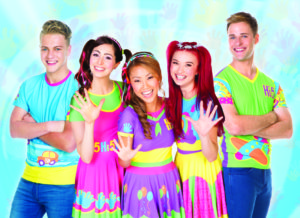 What kind of show are you planning?
Hi-5 House Hits showcases some of our favourite songs and biggest hits. There will be lots of cool characters, appearances from Chatterbox, and you might even run into cheeky Jup Jup!
Will there be audience participation?
As always there will be plenty of audience participation, it's kind of a Hi-5 staple. We always have so much fun and just want to share it with everyone around us. Did I mention that YOU get to help us pick which songs to sing?! How cool!
Why do you do what you do?
I have loved singing and dancing since I was a little kid and I guess the passion just never stopped, hehe. I love seeing kid's faces light up when we're performing onstage, it brings joy to my heart. I also love the learning aspect of the job and think it's important to teach kids that it's ok to be yourself from a very young age. I'm so lucky to do what I do.
HI-5 will be touring New Zealand this October with their HOUSE HITS tour to Auckland Sat 1, Hamilton Sun 2, Napier Mon 3, Christchurch Wed 5, Dunedin Thu 6 and Wellington Sat 8. For complete tour and ticket information visit www.hi-5world.com & www.livenation.co.nz
I've got a family pass – two adults, two children or one adult, three children to each of the House Hits shows around New Zealand!
So if you'd like to win a family pass – just comment below with your region – Auckland, Hamilton, Napier, Christchurch, Dunedin, or Wellington!
I'll draw a winner in two weeks.
Easy as!