Posted on November 23, 2016
Sponsored post: Dear Santa I LOVE YOU HONESTLY I'M YOUR BIGGEST FAN
I unashamedly love Christmas. I love decorations. I fucking love Christmas music. I love presents – mostly giving them. I love the idea that people all around the world are taking time out from life to really consider what will make someone else smile.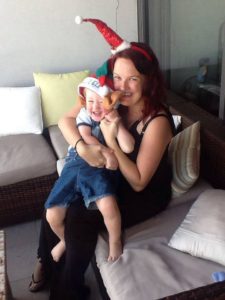 When I finally got knocked up I was so excited about the Christmases to come. I couldn't wait to begin new traditions for our new family. I was happy to finally have the Christmas I wanted. Every Christmas would be beautiful and joyous from now on.
Our first Christmas Day was Wellington's hottest day of 2012. It cracked 30 degrees that day. We drove around all day trying to get the baby to sleep. Every car we passed had exhausted looking parents in it and babies in car seats in the back – most of them screaming like ours. I had a sip of wine when we got home and promptly fell asleep. My husband who had spent a significant amount of time cooking a roast was not impressed.
Our second Christmas as a family was a family affair. My sister came over from Sydney with her two babies. We went to Featherston, Taihape, Levin. Auckland, and Tauranga. It was exhausting and we vowed never to do it again.
Our third Christmas was in Auckland. I was about 35 weeks pregnant. I was as big as a house. It was boiling hot and my thighs kept chafing. I went into the guest room at my husband's aunty's place and fell asleep. When I woke, I found his lovely aunty had put a fan on me, pillows behind my back, and a glass of cold water on the bedside table.
Our fourth Christmas I cannot remember at all because our second baby has collapsed my brain somehow through extreme sleep deprivation.
As we head toward our fifth Christmas we are doing things differently – we are having a quiet family Christmas – just us at home – that will involve watermelon and bubbly and White Wine in the Sun on repeat. I am hoping I'll have a new niece by then so I'll be particularly thankful. The children will hopefully get a trampoline if I can save enough money to buy it by Christmas Eve.
What is important is that we are together. That we love each other. And that we create a bit of magic for the kids. And because I'm so tired – I need a little help with the magic. So, that's why I was pretty happy when I heard about NZ Post's Write to Santa website.
I went into NZ Post not too long ago with Eddie when he was collecting for the Children's Hospital. I like how community minded they were – everyone there was so nice. I told them then to let me know if they had any stuff going on for kids because I'd like to write about it. Soon after I heard about the Santa postcards.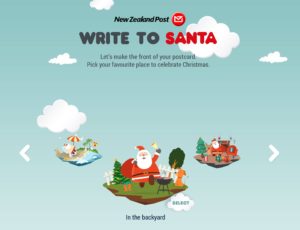 NZ Post's Write to Santa website is a place where kids can design their own Santa postcards and create present wish-lists. I sat down with Eddie to do it and he LOVED it.
I had to try really hard not to laugh while he earnestly dictated what I had to tell Santa – it was mostly about how much Eddie likes his belt. And how when he's an adult he's going to wear a belt. Then he dobbed his brother in. Then he asked for a ball and I was like easy. But then he asked for all of his dreams to come true and I was like JEEZ NO PRESSURE.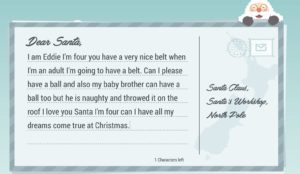 Then there was the wish-list:
A green ball
A kite
A white Christmas tree
Very specific. Very Eddie. Great for us – because his grandfather bought him a kite a few years ago which has been in the wardrobe since it was opened. We are going to re-wrap it, he'll never know it's a two year old Christmas present. My husband's mother has a white Christmas tree she has given us – so that too is covered. So, all we will need is the ball. Perfect.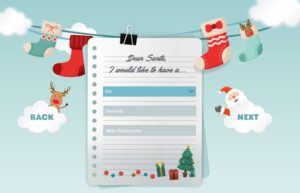 We plan on giving Ham a box of tissues. Though his Christmas wish is probably just to have one golden hour of being able to put his hands in the toilet bowl.
The postcard was really easy and fun to make and kept him entertained for about 20 minutes which for my four-year-old is equivalent to an hour. We made it on my tablet but I'm told it works on your phone and laptop. I particularly liked that the wish-list was only a list of three. God knows Christmas is expensive enough as it is without having an endless list of demands written in stone (or on the NZ Post website as it were). You also have the option of getting an email or postcard from Santa. I can't wait for it to arrive; I think I'm more excited than Eddie.
I fucking love Santa. I had gone through this thing when he was a baby of like a months' long war with myself over whether I should do the Santa thing with the kids – shouldn't I tell my kids we are buying their presents because we are working so hard for money to get them? Why should an old white man take credit for all my efforts? And is it lying? Is it sending the wrong message?
And then I saw Santa at the shopping mall and was like OMG EDDIE IT'S SANTA IT'S SANTA EDDIE HE HAS COME FROM THE NORTH POLE TO SPREAD CHRISTMAS CHEER EDDIE OMG SANTA I LOVE YOU.
Yes, maybe I have issues. Maybe my Santa love is some weird daddy complex or something. Let's not think too much about that.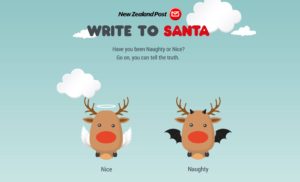 Anyway, back to NZ Post. Making the postcard together was a really nice way of starting a conversation about traditions and why we do them.
Eddie and I talked about what Christmas was like for me as a little girl. And what he would like Christmas to be like for him.
I was prepared for a list of demands and instead he said he just wanted to have Christmas with his best friends. Just as I was trying to work out if anyone would be staying in Wellington over Christmas so I could organise playdates he said:
"My best friends is Mama, Deddy, and Baby Wonnie"
I'm glad he already knows what Christmas is all about.
Thank you NZ Post for sponsoring this blog post and for making such a cool thing for kiddies! Click here to Write to Santa. You can do it even if you don't have kids but it's not free therapy to help you deal with your Santa/Daddy issues.