Birth
I am a huge fan of birth stories. And I am also a little obsessed with birth videos. I recently watched that freakin phenomenal video of a woman giving birth to a 10 pound baby in the car and it made me think about whether I should write about the birth of my baby AKA The Burrito AKA The Christmas Ham (pink and delicious).
Eddie's birth, two and a bit years ago, is a bit of a blur. I wish I'd written about it. But I was in such a fog. And then he got sick quickly and everything just disappeared into a stressy haze. I mean, don't get me wrong, his first year wasn't just stress – but I lost myself a bit in there.
The baby made me find myself a bit. This blog has made me rediscover myself a lot.
Anyway, about the baby's birth….I'm not sure where to begin. I suppose I should begin with the absolutely batshit ridiculous expectations I had about his birth. Eddie's had been relatively straightforward. I stupidly assumed a second baby would be easier than the first. Because Eddie's was quick – I went into labour on Friday night. Went into hospital Saturday night. Had him Sunday morning – I figured I would basically cough and baby two would come out.
Because I'd managed without an epidural last time, I figured I could do the same second time around and go even crunchier with a home birth. HA HA HA. There's a big difference between a baby facing the right way, in the right place, that's only six pounds and a baby that's facing up, is huge, and isn't in the right place. I was a massive, insufferable dick throughout my pregnancy – although thankfully I was only a dick in my head. I kept telling myself "Please, this will be a piece of piss. Just chill for a while when you get the first contractions and hang out at home. The baby might even come before the midwife gets here".
I had images in my head of just gently pushing the baby out (hahahaha gently) and placing him on my chest and then my husband being like "Ok, she's had the baby" to the midwife by phone. In this fantasy Eddie didn't even wake up until the morning. He then climbed into bed with us and we all snuggled.
So utterly convinced I was that my birth would be a breeze, that I booked a birth photographer. You know how I said I love birth videos? I LOVE birth photos. You know those ones in a pool where the mother looks all blissed out? I was like – yes, please. I'll have that photo thanks.
Needless to say, it didn't go down that way. At 35 weeks I had contractions after seeing the midwife. And they were agony. Leaving the midwife's office I almost squatted on Dixon Street. Luckily, it's Wellington, so nobody gave me a second glance. My husband was like hissing "what are you doing? Stop squatting in the street jeeeez!" and then Eddie was squatting next to me saying "whatchoo do dear mama?"
I got into the car and said "I'm having it. Call the midwife!" My husband was like "hold on, we were just in there, how painful is it? Can we just walk back over?"
And I was like: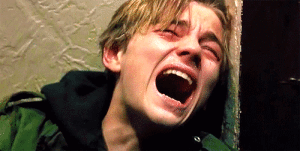 So we rang the midwife and she told us to head to the hospital and she'd meet us there. On the way I tried not to scream because Eddie was in the car. Eddie kept rubbing my back and saying "Sokay my darling! SOKAY DEAR MAMA! You alright dear mama?" When we got to the labour unit he was quite stressed and when reception asked for my name he said "MAMA" I settled in and the husband took Eddie home. I started to think "This is good. I don't have to be pregnant anymore". For some reason I never thought 35 weeks was too early. I had long thought I was a few weeks ahead and had had heaps of scans that suggested the baby was big. I asked to fill the pool and my midwife explained because baby was early I would need to stay in bed. I was distraught by this. Apparently it's only after 37 weeks that you don't have to be strapped to a bed. So six hours later, I was actually kind of happy that contractions stopped. I went home. I was put on bedrest. Goal: Make it to 37 weeks.
The next night – contractions started up again. They lasted about four hours at about eight to six minutes apart.
The next night they started up again. This time for about six hours.
It was the same night after night for a week.
I had no idea that this could happen. Eddie's birth had been straightforward. I'd had a contraction, then another one, they got closer together, then baby.
I had an exam and I was two cms. I did not react well.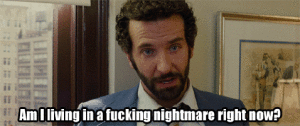 I asked for a stretch and sweep and began to Google "How to get a baby out". I knew I didn't want an induction, and that since my waters hadn't broken I wouldn't get one anyway. So I ate 1500 pineapples, so much curry I never want to eat curry again, had the most joyless sex I've ever had in my life (I'm sorry I was so aggressive toward you husband), and walked my street endlessly.
The contractions were awful. I felt so alone – how do you say you're in labour but you're not in labour? I got all these comments like "Can't you just get an induction?" or worse: people assuming I wasn't in labour because they didn't know you can be in labour for weeks…
Eddie took to pacing around the house, one hand on his back groaning.
I laugh now, but it was pretty terrible. I threw up constantly, couldn't pick up Eddie, couldn't do anything but lay in bed. A walk around the street exhausted me. I couldn't sleep. I could barely eat.
We ended up back in the delivery suite again a week and a half later but I was only 3cm. I was offered pethidine to help me sleep but instead decided to go home. I was distraught – if I was in this much pain now, I'd never be able to handle actual labour. This baby wasn't coming.
At 37.5 weeks I was still having contractions all night and part of the day. I picked up a birth pool from a friend on Twitter who was also a midwife. I needed something other than panadol to take the pain away.
I set up the pool in my room in front of the TV and spent seven hours in there and in the shower. My contractions were close together and it was agony. I began screaming and losing it so we called the midwife – "we" as in my husband rang and said "I think the baby is coming or something" and in the background I just emerged from the pool screaming: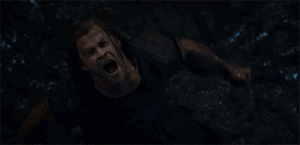 The midwife told us to go into the hospital and I had this exchange with the father of my child:
CHANGE YOUR TOP
What? Is it dirty?
CHANGE IT
Why?
I CAN'T HAVE SKULLS IN THE DELIVERRRRAGGGHHHHHHHHHHHHHH
*changes top to a singlet*
WHY ARE YOU WEARING A SINGLET AND A HAT AND SUNGLASSES IT'S NIGHTIIIIIIIIIIIIMMMMAAARRRRRRGGGGGHHHH FFFFFUUUUUUUUUUUUUUUUCCCCCKKK YOoooooooooooooooooOOOOOoooooOOooooouuuuuUUUUUUUUUU!
We got into the car and began driving to the hospital which involved me screaming at him to drive faster and him saying we needed to drive to the speed limit. We hit every light on the way and at one point this guy pulled up next to us eating KFC and he turns and looks at me in the car and I'm like:
He almost dropped his chicken wing. The contractions were so strong and I felt like I had to push. As we entered the hospital car park I basically jumped out of the moving car and screamed at a person trying to open their car "GIVE ME AN EPIDURRAAAAAGGGHHHHHHHHH". They flattened against the side of their car in terror, keys fumbling in trembling hands.
I banged on the glass doors at the hospital entrance screaming at the top of my lungs as my husband sheepishly followed behind me. The bored security officer pressed the button and I lunged inside. "IT'S COMING OUTTAAAARGHHHSHHHHHIIIIIIITTT" I hurried to the lift, I knew where to go as this was my third time in the hospital for this labour. The orderly in the lift looked like a character in a horror movie who is desperately trying to escape a serial killer. He frantically mashed at the lift buttons and tried to make himself as small as possible in the corner of the lift while I screamed "I NEED DRUGS DRUUUUUUUUUGS".
"Miss I can only push the buttons on the lift" he quivered in fear.
My husband suggested I calm down. I did not take it well.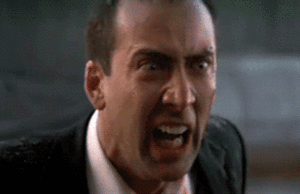 When I finally got to the labour ward my midwife heard my screaming and grunting and told me she wouldn't check me. She said if I felt like I needed to push I should push. And I really, really felt like I needed to push. So push I did. As hard as I could. While screaming for drugs.
After an hour or so (who knows really? It felt like 8000 years) she checked me and I was only 4cm. I was devastated. I don't think I've ever been so upset about anything in my entire life. I was sobbing, exhausted. How would I handle active labour if I was only 4cm and in this much agony? It was around 10 at night. I got into the pool and cried. At one point my midwife told me 'You know this baby is going to come out right?' and it sounds so bizarre but I really didn't think the baby was coming out. I actually thought I might be in labour forever. Like it sounds so stupid now, but I really thought I might just be in labour for the rest of my life. I had hoped when I had finally got to hospital and begun to push that it would finally be easy.
I still had the overwhelming urge to push but there was no baby. The baby was posterior and pressing down on an anterior cervical lip (or something I don't even know but there was something about a cervical lip and it was anterior). He was facing up instead of down. Grinding against my pelvic bone. That was behind my need to push, and also why he wasn't coming out.
The only upside was that he was never in distress. He was happy as a clam through the whole process. From 35 weeks until his birth at 37.5 weeks.
My midwife was so calm. And the calmness helped me even as I felt totally at sea. I was in AGONY. And felt that the baby just wasn't coming. I showered for a while but kept grunting and trying to push out the baby. I felt like my spine was being crushed. I just cannot describe the pain. General things I said over the next five hours:
CUT IT OUT
PLEASE I NEED DRUGS
I CAN'T DO IT (the main thing I said)
I'M DYING PLEASE
I'M GOING TO DIE
PLEASE PULL IT OUT PLEASE
WHY WON'T IT COME OUT??
HELP ME (I said this heaps)
My midwife was calm and collected. If she was stressed, I didn't see it. She kept telling me how strong I was and reminding me that not only could I do it, I was doing it. The baby would be born she said. I spent a lot of time apologising to her after yelling at her. I spent a lot of time whimpering that I was dying. My husband was quite pale at this stage, he was in a fair bit of pain from me gripping his arm. But let's be clear – IT WAS NOTHING LIKE MY PAIN OK. NOT EVEN CLOSE.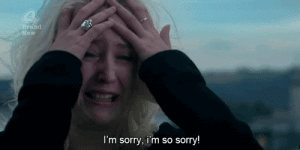 I had to push again and so I got into all fours. I pushed and pushed and pushed and pushed. I felt absolutely delirious with pain. Eddie's birth had not been painful like this – the pushing had been a fantastic relief from the contractions. This was beyond anything I'd ever experienced before. I begged for any kind of drugs available. At one point I even said I would take experimental drugs. Just anything – just whatever is left over next door. Just like punch me in the face or give me some plants from outside the hospital. Just like ANYTHING.
My husband stroked my hair and reminded me that my plan was an unmedicated birth so that we could get home as soon as possible to be with Eddie. I told him that I hope he died and went to Hell and then died again just so he could be sent to Hell again because he's a fucking monster.
For the next little while I pushed and screamed "Is he coming? Is he coming?" The midwife said something about "I'm just going to get my hand and…" I just screamed "PULL IT OUT JUST FUCKING PULL IT OUT" at her.
Now, I would love to say he just came out. But he did not. He DID NOT. I felt his forehead. Then the ridge of his eyebrows. Then his nose. Then his chin. Then his shoulders. Then his arms. Then his bottom. I felt it all. Ring of fire? It was an inferno. The entire room was on fire.
When he was put on my chest I lost it. I sobbed and sobbed. I've never felt such relief in my life. Just writing this I'm sobbing. I DID IT. I got him out! My husband kissed my forehead and I stared at my beautiful ginormous nine pound three baby.
He was screaming. He was bruised and red. His head was enormous and swollen and misshapen. I awkwardly asked if his head was going to stay like that. She assured me it wouldn't.
She told me she was just going to have a look at my lady garden which was now a tornado-destroyed desolate waste land. I hissed at her. YOU BETTER NUMB EVERYTHING FROM THE WAIST DOWN BEFORE YOU TOUCH ME. She prepared a needle and I relaxed into the bed holding my screaming cone-head. "Please sew my vagina up entirely. I will never use it again" I told her.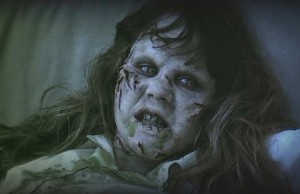 As I lay there with my legs apart I remembered the lovely birth photographer Jane was there. I'd completely forgotten about her. I quietly said to her "please don't take photos of my butthole". She assured me there would be no butthole photos.
My husband gazed adoringly at our little boy. "Wow, he's perfect" he said. I called my family and told them the wonderful news. Our gorgeous baby was here. We were four now.
We went home a few hours after he was born and climbed into bed together. I felt completely at peace. It was over. Finally. And now the real fun would begin…
My midwife's words hung in the air "You did wonderfully". And it was wonderful. A wonderful world for our new baby to be born into.
The sun began to peak through the curtains. We cuddled. Wonderful.
***
If you liked this, follow me on Facebook for more of the same. I'm on Instagram too!