Off to the circus
If there's anything more joyful, more life-affirming, than sitting in a theatre, surrounded by children who are utterly delighted by art – I don't know what it is.
The other day I was lucky enough to see Wolfgang's Magical Musical Circus at The Opera House.
The Opera House was packed full of kids as part of Capital E's Arts Festival for schools and even before the show started the atmosphere was pretty electric. I mean what kid isn't excited about the circus? But it seemed to be more than that – it was about being in the hallowed Opera House and getting to attend something really special.
The kids all around me were quiet and filled with anticipation. There was a huge OOOOooooh! as the lights went down. From then, it was all on.
What can you say about Wolfgang's Magical Musical Circus? It is absolutely magical. It completely engaged the audience of mostly six and seven year-olds from start to finish.
I have been to so many shows (good and bad) at The Opera House – I have never, ever heard a reaction like I did to this show. The children were absolutely riveted. They were dead silent and then as the incredible performers flipped and landed indescribable feats they would erupt in cheers and applause.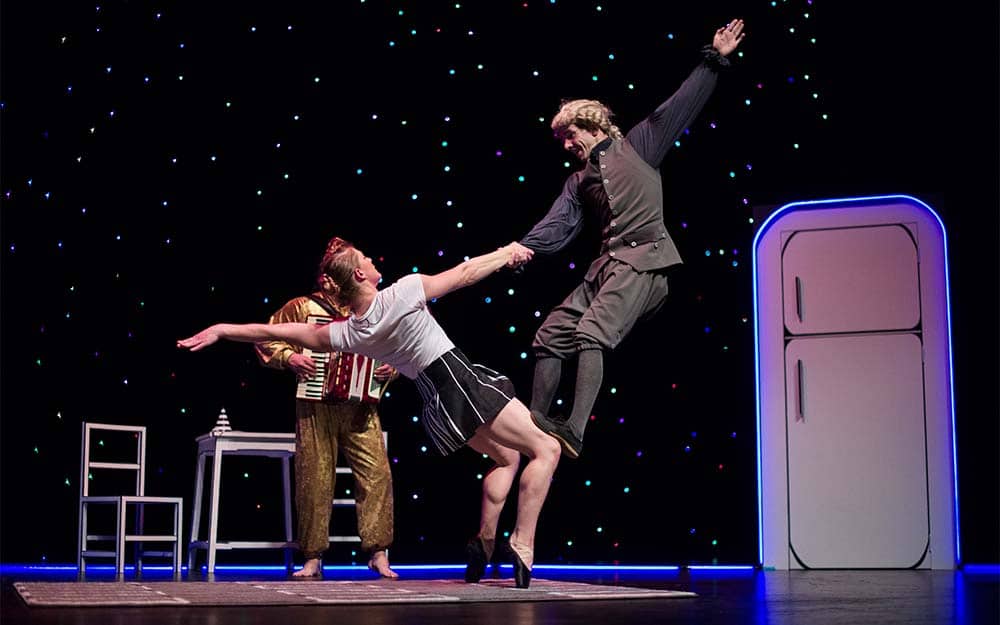 The performers were absolutely charming. The story was simple – no need for extras when you're balancing upside down on a bicycle! Their talent literally took your breath away (the young boys behind me in particular seemed to hold their breath during every stunt and then breathlessly whisper FAAAAAR HOW DID SHE DO THAT).
I loved that the woman performer Kathryn O'Keeffe was so strong and powerful. She was the "base" and "Mozart" often landed on her much to the wonder of the children. I thought they had incredible chemistry and later found out they're married! Paul O'Keefe, her husband, was just as impressive and Gareth Chin on the accordion was so cheeky and mischievous, I couldn't help but smile every moment he was on stage.
Every seemingly impossible landing just blew the minds of the kids in the audience. They really reacted like it was magic. I heard so many comments like "She can't do that! WOW! She is so strong!"
My friend and I were blown away too, this is definitely a show for the whole family. It didn't once drag and it entertained us all – including our very tired two and four year-olds.
It really is a must-see – the costumes, the props, the dare-devil stunts (you will watch some from between you fingers!), and the glorious music all combine for a truly delightful experience.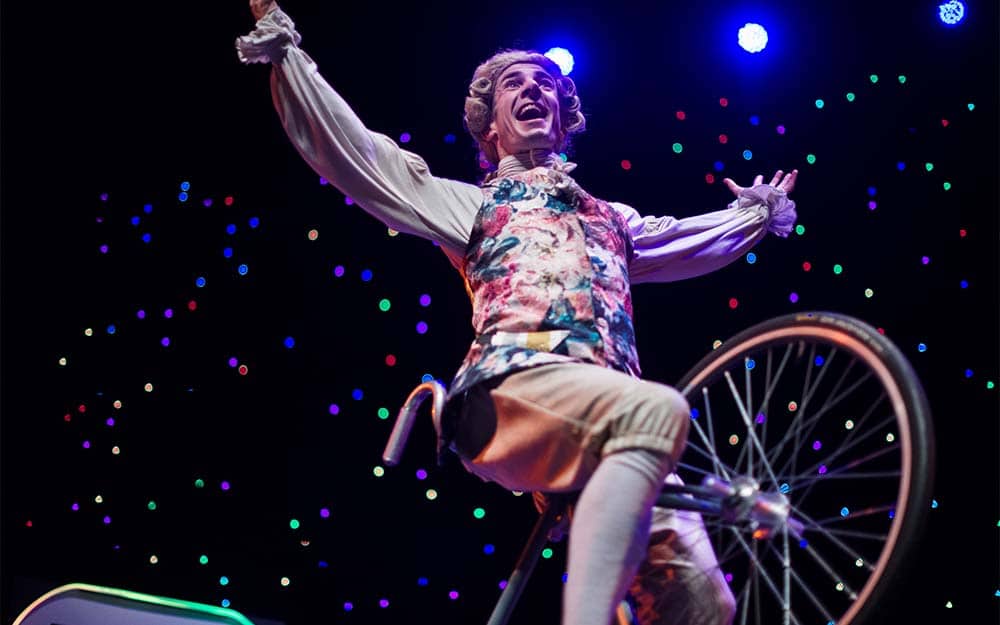 Created just for our tamariki, the National Arts Festival brings national and international artists to Wellington, then invites all of the regions school children to attend! The shows are incredible diverse, everything from acrobatics, 3D shadow puppets, music, street performance, to comedy, and dance. The National Arts Festival is described as a celebration of performance and that couldn't be truer.
Created by Yaron Lifschitz with Benjamin Knapton and the Circa Ensemble this incredible show comes to us from Australia. Absolutely don't miss out!
Support Capital E so they can keep supporting our kids – Book your ticket now.
*
I've been a long-time supporter of Capital E and I'm proud to work with them to bring you reviews x