Posted on November 23, 2015
Sponsored Post: Getting in (and back out) of the kitchen
It feels like it has been a while since I've really enjoyed dinner time. Gosh, that sounds like an awful thing to say doesn't it? But dinner is HARD.
For a start, everyone is exhausted by dinner. The kids, more than likely, haven't napped or have fallen asleep in the car at 4.30pm despite the fact that you were singing at the top of your lungs like a mad woman trying unsuccessfully to stop them doing that.
They're now ratty and hungry. But they're not hungry for what you're cooking. They're hungry for a packet of chips or an ice cream.
Certainly not the dinner you prepared for the family or the second dinner you prepared just for them.
Eddie is an almost painfully polite child who is very aware of feelings (his own and everyone else's) so his dinner critiques are less along the lines of "this is gross and I won't eat it" and more:
I fink that maybe I don want this wan you are vewy nice for make me dinner but this is a liddle bit not nice….
So dinner has become a constant string of bribes and negotiations. I could basically work with the FBI given my experience in the last six months of convincing my toddler to eat when he DOES NOT EVER WANT TO EAT EVER.
He's on the slim side already, and I swing between – well he won't starve himself – through to – Is he going to starve himself?
Dinner is often: "If you want to grow up to be big and strong so you can be a ballet dancer and a digger driver and a kina (I know – we don't want to crush his dreams and tell him there is no way he will evolve into a sea urchin) then you need to eat at least three chicken nuggets".
Or if it's a particular dire night: "Elsa just rang and she said if you don't eat your dinner she's going to poach undersized paua from the marine reserve" (He saw an episode of Boarder Patrol and it's all we have heard about for weeks).
Or if it's an especially dire night: "We will have to tell Nanna you didn't eat anything tonight".
With a new(ish) baby I'm also doing the – eat as fast as is humanely possible before the baby wants milk and will fall asleep on you – thing. Which has gradually turned into the – one of us holding him while the other inhales their food in 30 seconds so you can swap – thing.
Dinners have not exactly been pleasant lately. They've turned into a chore.
And frankly, I don't want that anymore. I always wanted dinners to be that special time of the day where we all come together and have fun and discuss our day. And the drudgery of dinner was starting to bleed into other mealtimes too…
So when I heard about the We Are What We Eat campaign I wondered if I even had the energy to check it out let alone actually get involved. But then I saw their mission statement and thought – you know what? I want that.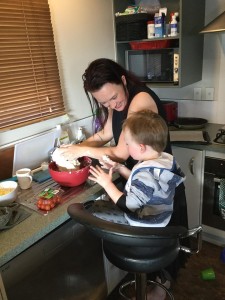 The campaign is all about providing Kiwi families with a bunch of meals, snacks, and treats that are quick and easy to make. But the thing that drew me in was actually around their main goal of getting families eating together and enjoying their meals together.
If I'm honest, that's not really something we do in my house. And I actually want to change that. I don't feel guilty that we don't eat together as much as we should, it's the reality of having a young family. You're always chasing after one or the other and there is work to do and baths to prepare and you need to divide and conquer a bit.
We can't change how exhausted we all are by dinner time. But we can do our best to make sure our tiredness doesn't stop us from trying to make our family meal a good one for us all.
So, with a new resolve, I sat down with my husband after the kids had kind of gone to bed (one was asleep and the other one was eating a plastic hammer and mumbling like a drunk to himself so I figured he was occupied) and we picked out one thing each that we wanted to make from the We Are What We Eat site.
Their site has a bunch of easy meals (as does their Pinterest page) you can prepare and most of them only have three or four ingredients. And you can create a shopping list based on the ingredients you need. You can also pull together your favourite recipes on the site to make your own personalised cookbook. The recipes are split into a bunch of categories (I spent a lot of time in the Tempting Treats section).
We decided we would make the Monte Christo Cheesy French Toast Sandwich because it seemed like the one Eddie would eat. As it contained about the only two things he eats – bread and cheese. It was SUPER easy to make. And he liked it. And even requested it again the next day.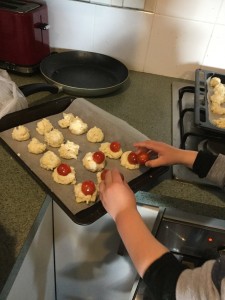 Then we made the Cheeze Whizzes the next day. Eddie LOVED making these. He especially liked pushing the cherry tomatoes into each ermm whizz. He wouldn't eat any of them. But the rest us ate them, and the baby really liked them. The main thing was that we enjoyed making them together. It meant him not eating them wasn't such a big deal. He had a piece of luncheon instead (I have no idea why all toddlers seem to like luncheon so much ughh).
We had such a good result that we decided to crack on and make the Terrific Truffles.
The truffles easily made about 55 or 60 and I only ate like half of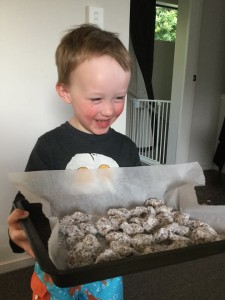 those. And they were SO EASY to make. Other than the time spent in the fridge, they took minutes. And they tasted like happiness. The finished result looks like you spent ages on it which is great for impressing Smug Mums. You can be all – yeah, I just whipped this up. And you wouldn't even be lying.
We also made the Feta Whatever thinking it would be a good dip for friends coming over for a playdate. But after watching the video and seeing Annabel Langbein put them INSIDE A POTATO. We were just like:
HOLY SHIP. WE NEED THESE THINGS IN OUR LIVES.
Like, if you love potatoes (who doesn't I mean c'mon carbs) and you love feta – it's basically Heaven on Earth.
We were so focused on trying these new recipes and (as they say themselves) spending: "Less time in the kitchen and more around the table", we found that meal time stress just kind of flittered away a bit. I mean it's not a cure-all, but it's not meant to be. Just spending less time making dinner and eating really yummy food that was easy to make – I mean, of course that's going to help with dinner time stress.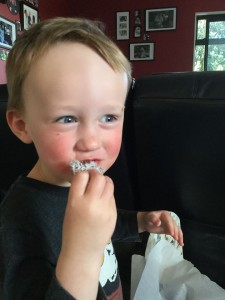 Eddie saw us laughing in the kitchen and focusing on just enjoying what we were eating together, and he seemed much more relaxed. He ate about the same as he usually would, but we certainly had a lot less bargaining. I think our anxiety over how little he eats has been adding to the overall downer dinner vibe. He's also now obsessed with smoothies (and I can't believe I made something with chia in it).
I think it's so disheartening when you slave over a meal and your kids won't touch it that it adds this crappy vibe to dinner. Like, great, I spent what precious little time I had making you something that took an hour, only for you to consider it for .8 of a second and not eat it.
The quick and easy meals on We Are What We Eat mean you're not spending so long getting really invested in the meal and making sure your kids eat it – most of them take minutes to prepare especially after watching the fool-proof videos (you can subscribe to their Youtube channel to get all the latest recipes). I mean none of us actually want to spend that long cooking dinner, and so many of us can't.
And the truffles. Damn.
Check out some of the videos below and the We Are What We Eat Facebook page. Thankfully they're really, really short for time-poor parents!
This was sponsored by WE ARE WHAT WE EAT but all thoughts are my own.