Posted on November 29, 2017
Sponsored post: SANTA MY CHICKEN
If you know me, you'll know I fucking love Christmas. It's my fave time of year. Christmas music – THE BEST. Decorations – give it to me. I love everything about Christmas and I especially love the magic of Santa.
We changed up the way we do Christmas last year – basically we decided we didn't want to spend the day travelling so we stay home. We want a relaxing Christmas and running between families is not relaxing. I also stand by the belief that if you want to see children at Christmas you should come to them – unless they expressly want to come to you. Hauling my pregnant ass all over a city I hate is not enjoyable, so I won't be going to [redacted] for Christmas ever again thank you very much.
I will be having a wine. Eating watermelon. My husband will cook. The kids will splash in the paddling pool. Hopefully we will have some friends over. But probably it will just be our Whānau of four and one of our besties who happens to be in Wellington this year. And that to me – sounds perfect. This year we will probably go up to the old folks home up the road and hand out some Christmas cookies. If it's nice weather – we will go to the beach in the afternoon. Perfect.
This might not sound that magical – but I reckon it is. In any case – the magic comes before….the magic comes with my bestie Santa. I thought I wouldn't "do" Santa with my kids but then I saw a Santa at the mall when Eddie was a baby and I fangirled out and was like "EDDIE IT'S SANTA IT'S SANTA LOOK!!" so we are doing Santa.
Now, I tell Santa stories, but because I'm so tired – I need a little help. So,  I am super thrilled that NZ post is once again doing their Write to Santa website. We did it last year and it's so great!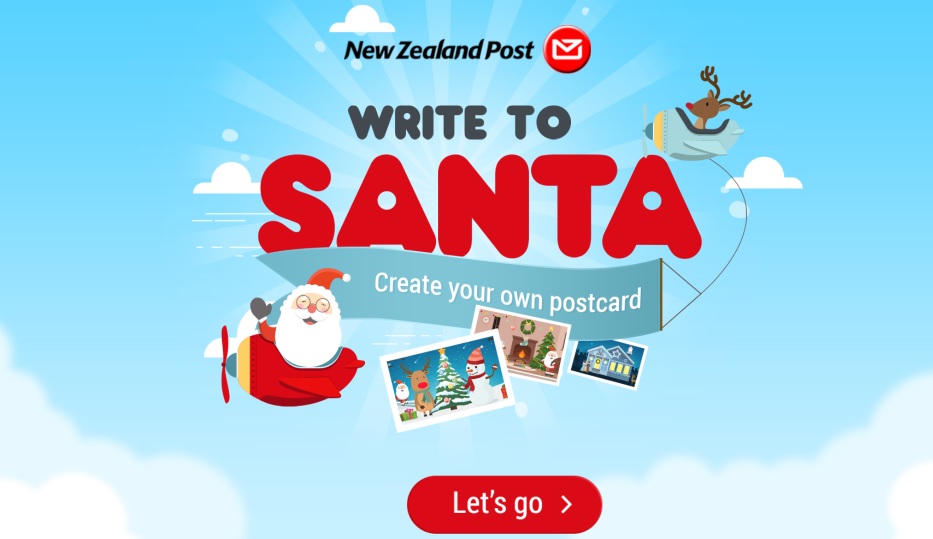 Last year, when Eddie was collecting for the Children's Hospital in September, we went to NZ Post for donations and they were so generous. I told them to let me know if they had any Christmas stuff they were doing and needed help spreading the word. They got in touch again this year and I was keen as to see how different my boys' Santa letters would be a year on.
It's basically the same as it was last year (because if it ain't broke) though I'm told mobile usability is better (I found it fine last year). You can get your letter sent in braille which is great.
I sat down with the kids individually to design their postcards – you pick from three Christmas scenes and then "decorate" them. Both kids loved doing this. Though my two-year-old's efforts were average.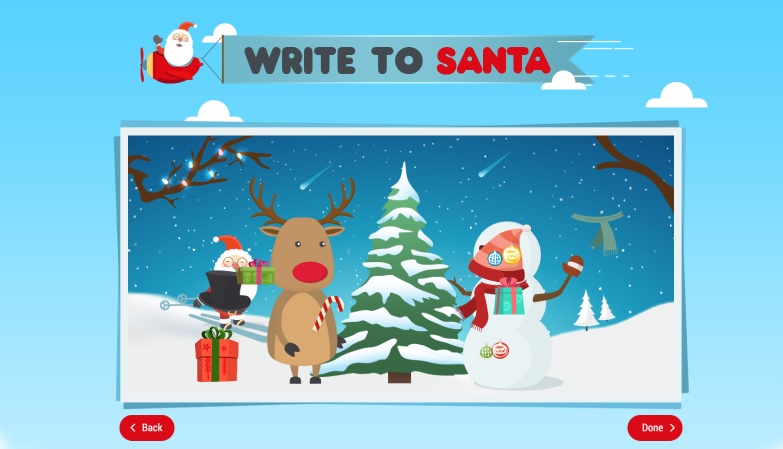 From there you get to the nitty gritty – you actually write to Santa. Eddie was lovely and generous this year – after asking for one thing "a Spiderman" he asked each of us what we would like. My husband said a boat, and Eddie told him that was not realistic. So a decision was made to ask for lollies instead. I said I'd like sleep – but apparently that's unrealistic too so I settled for flowers. Unhappy with his younger brother's requests for a penguin – He decided to tell Santa that his brother can't talk – which is probably a bit unfair because he can say some words.I was smug in my parenting skills that he said thank you to Santa first before asking for shit.
Ham-the-tiny-tyrant asked only for a penguin.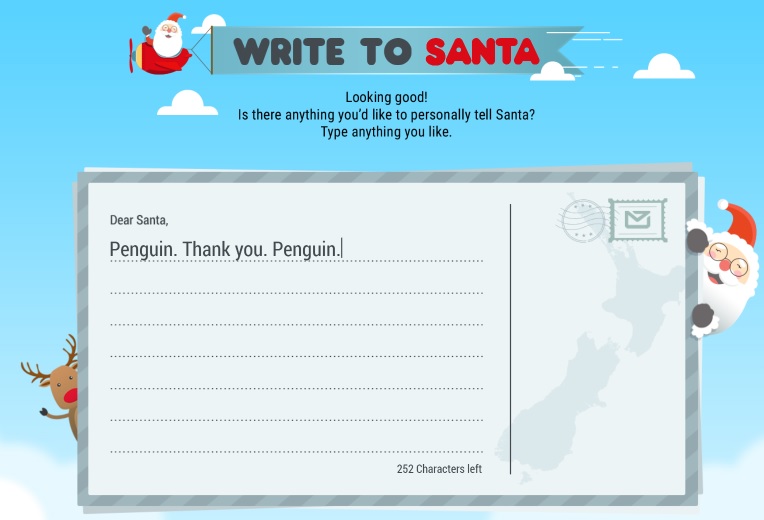 When I tried to get him to expand on his request he just walked away from me. I had to drag him back to ask if he was naughty or nice. He said nice. Then came back and said naughty which made us all laugh. But we decided unanimously that he had been nice.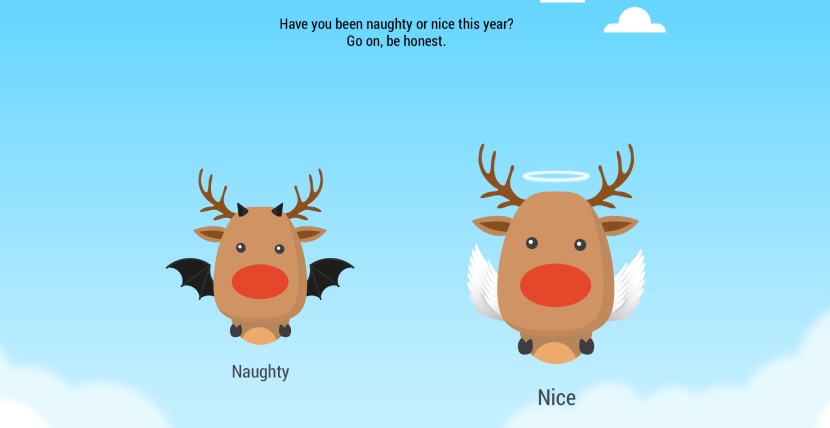 After you've checked the naughty or nice box – you can request different toys from a drop-down box. Luckily there's only three fields. And you might get lucky and they'll only ask for two things.
Or maybe you'll be unlucky and have a child obsessed with chickens and penguins.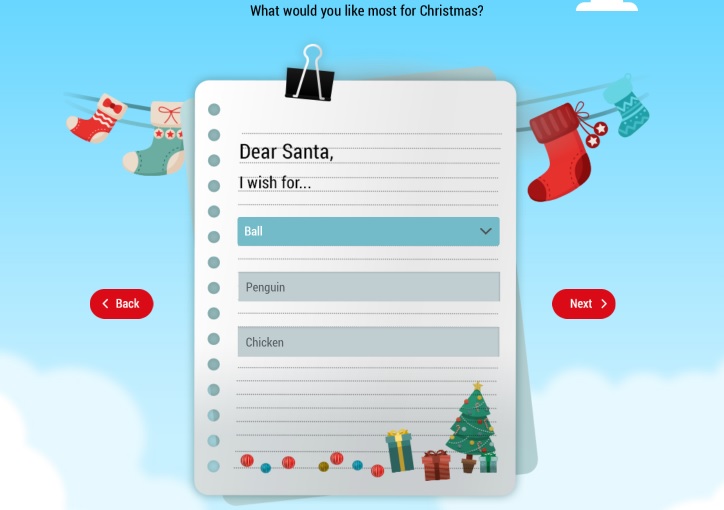 Whatever your kid's random obsessions – you'll be able to get a personalised letter from the jolly fellow if you fill out a postcard before 3 December. You can still fill it out after that date – but Santa will email you back instead because he'll be busy finding a Spiderman for Eddie and a penguin for Ham.
I really love that NZ Post have done this. I remember as a kid ringing the Santa hotline and it really made me believe in the magic of it all. I know Eddie and Ham will be so excited to get their Christmas mail. Along with Twitter Secret Santa – NZ Post are really holding it down in their spreading Christmas cheer stakes. Meri Kirihimete!
Thank you NZ Post for sponsoring this blog post and for making such a cool thing for kiddies! Click here to Write to Santa.