Rebecca Keil and I are coming to your city! Tickets are on sale Wednesday 5 May at Midday HERE for all cities except Auckland and Invercargill. Buy Auckland tickets here. Invercargill tickets are here. There are no door sales, once we sell out that's it!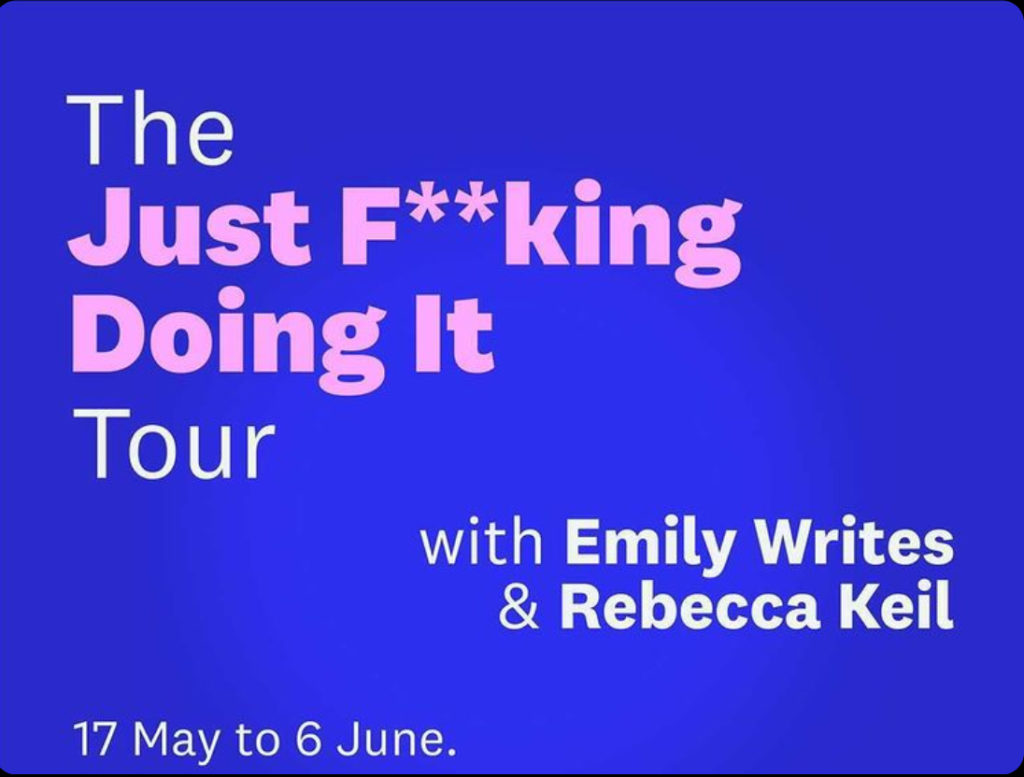 It's time to treat yourself! Have a night off with your girls and laugh till you cry with Rebecca Keil and Emily Writes. Both are exhausted mums who planned a tour to get away from their kids and both are a bit wild, and both want you to have the night of your life!
Rebecca and Emily met years ago and have been mates ever since. This is their first tour together and they want to make the regions laugh and cry and feel amazing. If you've ever felt like parenting is the best and worst thing that you ever did? This night is for you. If you secretly suck up LEGO pieces by vacuum and tell your kids the park is closed when it's raining – then this is the night for you! We'll answer your questions on all sorts of stuff – parenting, sleep, sex, surrogacy, feminism, activism, Hollywood Hunks and body stuff!

The night isn't just for mums. It's for anyone who loves the kaupapa – We are just fucking doing it!
Come for the solidarity and the shared joy and we'll donate a portion of ticket sales to a local charity.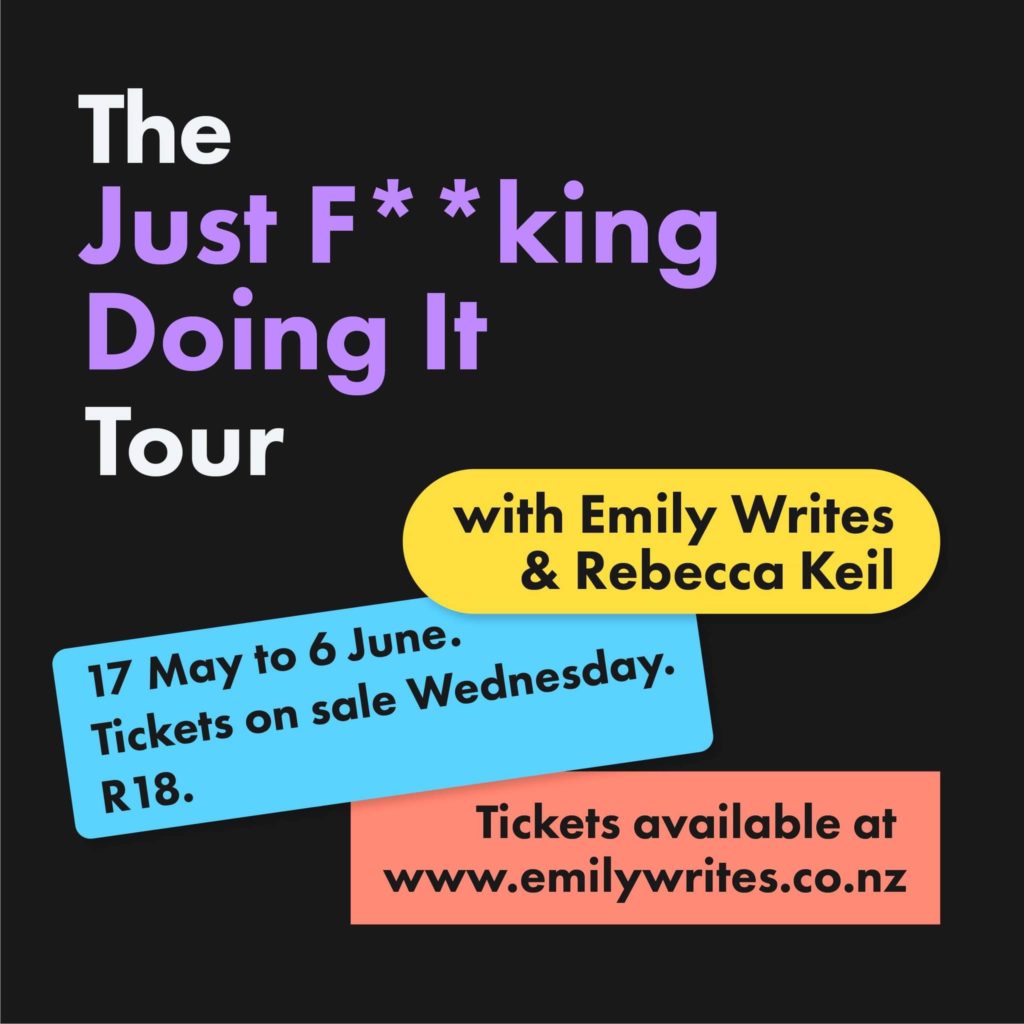 All shows begin at 7.30pm, have a 15 minute intermission, and end at 9.30pm.
Whangārei 17 May at The Butter Factory 8 Butter Factory Lane, Whangārei supporting Kind Hands Respite Care SOLD OUT
Tāmaki Makaurau Auckland 18 May at the Tuning Fork 42-80 Mahuhu Crescent, Auckland CBD supporting North West Toy Library SOLD OUT
Kirikiriroa Hamilton 19 May at The Cook 7 Cook Street, Hamilton East, supporting Heart Kids Waikato SOLD OUT
Tauranga 20 May at Our Place 91 Willow Street, Tauranga supporting Kura kai SOLD OUT

New Plymouth 21 May at Novotel New Plymouth supporting Diabetes Youth Taranaki SOLD OUT
Palmerston North 22 May The Royal Hotel Bar 44 Rangitikei Street, Palmerston North supporting Whangai Ora Milk Bank SOLD OUT
Napier 23 May at The Cabana Bar 11 Shakespeare Road, Bluff Hill, Napier supporting Te Tipu Whenua o Pa Harakeke SOLD OUT
Ōtautahi Christchurch 26 May at Welles Street supporting the Brackenridge respite programme SOLD OUT
Blenheim 27 May at the Woodbourne Tavern 80 High Street, Renwick supporting the Malborough Multicultural Centre SOLD OUT
Nelson 28 May at Harvest Kitchen 168 Redwood Road, Appleby supporting Nelson District Parents Centre SOLD OUT
Wairarapa 1 June at The Garrison Cafe and Bar 57 Fox Street, Featherston supporting Wairarapa Winter Jackets SOLD OUT
Pōneke Wellington 2 June at Meow 9 Edward Street, Te Aro supporting Little Shadow SOLD OUT
Timaru 3 June at Sail Bar 51 Sophia Street supporting Timaru Parents Centre SOLD OUT
Ōtepoti Dunedin 4 June at Petridish 8 Stafford Street supporting Mornington Toy Library SOLD OUT
Invercargill 5 June at ITL Stadium 18 Surrey Park Road supporting Makarewa Playcentre SOLD OUT
Wānaka 6 June at Edgewater Wanaka 54 Sargood Drive supporting Wanaka Pre-School SOLD OUT
Kurow 7 June at The Kurow Hotel Pub 55 Bledisloe Street in support of Kurow Women. SOLD OUT
Dunedin 19 June at Petridish 8 Stafford Street
Auckland 20 June at the Tuning Fork 42-80 Mahuhu Crescent, Auckland CBD supporting Talk Peach
Wellington 23 June at Meow 9 Edward Street supporting Diabetes Youth Wellington SOLD OUT
Get your tickets now! No door sales!