Posted on December 18, 2015
This year
My arms are full of babies as I write this. We are feeling sick, have been for a few weeks now, so we are all in our big bed together – the boys are dozing in and out of foggy pamol-supported sleep. It's ground-hog day really – we have been here many times this year.
But my heart is also full. And it's hard to  put into words the enormous gratitude I feel. Not just for these sweet babies. Of course, I thank all of the lucky stars in the sky for my precious boys. It's incredible how in those first few weeks and months you can't fathom loving them more but really every week that goes by you do…That sudden realisation that these perfect little beings are really here and they're yours, and you feel woozy with all of the heartburstingoutofyourchest love and yet when they're three and you tuck them into bed and they say "I love you more than the world" it's even MORE. Or when they're sick and there are big fat tears and shuddering gasps and hoarse crying and they're red and hot and your heart just breaks for them and it's even MORE. And I don't know how that's possible. But it is.
But they're not all I feel thankful for.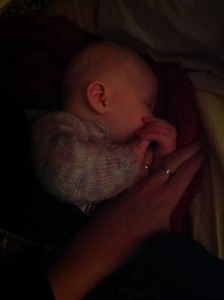 It's you. I want to thank you for this year.
I want to thank every person reading and every person who has been kind to me during this long year of learning and love.
Your comments and emails and the things you've said when sharing my posts, your tweets and your messages on Facebook, you have helped me so much. I can't even tell you. But I'll try:
A while back someone said on the Herald or somewhere "What makes you think you're an expert on parenting?" and I thought – where on Earth did this person get the idea that I'm an expert on anything?!? Have they ever read anything I've ever written?!?
I've never claimed to be an expert and I would think anyone reading my posts would know I'm not. I'm just a mum. Writing. Trying to make sense of my world which at times feels very lonely. I'm just reaching out and saying – this is how I feel, I don't know if it's right or wrong, maybe it's neither.
Often I feel like I'm very wrong. That I'm one missed step away from fucking everything up. Every time I hit publish I wonder if what I've said is going to help anyone. Though I stumbled into this blogging thing, I realised quickly that I hoped it would help others in the way it has helped me.
What I've found over this year is that there are a lot of us out there who are trying really hard to be good parents and who aren't sure if we are, but really, really want to be. I've found I'm not alone in my insecurities as a mother. And that in itself is a gift.
Even more so is how much you've reached out – You commented, and emailed, and sent me messages, and tweets – and you were so kind. You told me stories about your beautiful children. Gave me tips that held no judgement. Shared the agony of sleep deprivation. Made me feel normal. You told me I was a good mother on days when I felt like I was doing everything wrong. You supported my idealistic and ill-thought out ventures and made them successes. That wasn't me doing Ballet is for Everyone – it was all of you, donating money and volunteering time and sharing updates and encouraging others to give. And thank you especially to my co-founder Sarah and all of the dance teachers who put in so very much work, which made so many kids happy this year (and will continue to do next year).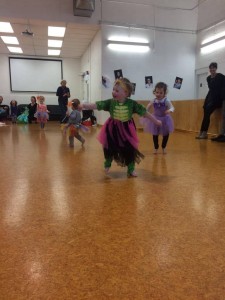 You encouraged me to sleep. To eat. To do. You helped me deal with developmental changes that drove me up the wall – WHY WHY WHY. You made me laugh so much. So many times my husband hissed "turn off your phone!" as I snort laughed under the blankets cracking up at our shared hatred of Peppa Pig and fantasies about what you'd do to your mum if she said one more thing about self-soothing.
You were so, so generous. It blows my mind how generous you've been. Because of your support through Patreon and donations through this site I've been able to be home with my boys a lot longer than I ever would have been able to be.
And it didn't end there – You got Eddie the gift of Elsa! To this day he still talks about how she came to his birthday. His little face lights up when he holds his Elsa doll. "Elsa is my best friend she came to my birthday" is one of the first things he says when he meets new people.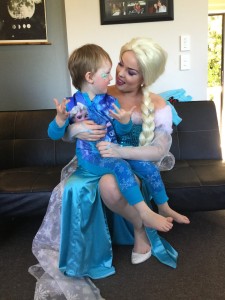 You donated to the Children's Hospital in his name. You donated over $2,500 to Ballet is for Everyone. You gave me grocery vouchers when the Ham was hospitalised and you knew my husband would need to be home with Eddie.
You stayed up late and talked to me on Twitter while I cried and watched my baby unable to breathe on his own. You understood my fears, never minimised them, but helped me keep perspective.
You voted in your droves for me to win an award. You supported me when the Herald approached me to write for them. You supported me when I had my first sponsored post – and hopefully you'll continue to support me now that I have a sponsor for this site (Thanks Flick!)
You stood up for me when people were mean about me online. You told your friends about my blog. You told me to write a book (and I'm starting to write one!) You told me to back myself and for the first time in my life I'm starting to do that.
You made me feel less alone. You created a community where we get to laugh and talk about being parents without nastiness. You showed this Mommy Wars thing is mostly bullshit – because if you're kind to each other the online home you make replicates that. "A love boomerang" – as Giselle said.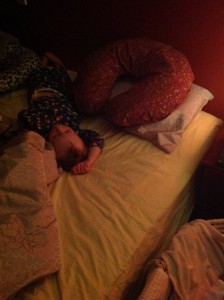 This has been a wild, strange, awesome, inspiring year for me – from the very first post when my sister said "I just read something and it sounds like you" and I thought – how on earth did that post get to Sydney? And then when I went on Twitter and couldn't get into my mentions. And then when Huff Post and MamaMia and others started calling… And SO MANY COMMENTS that I had to get two friends to help me moderate.
Ham was a few weeks old. Next month he will be one. And then this blog will be one.
And it's all because of you. So thank you. Thank you for sharing with me the joy and wonder and horror and awesomeness and exhaustion and excitement of parenting.
And just as I was finishing writing this, at my door an envelope addressed to "Emily Writes" landed.
I have spent much of this week concerned about how I will pay for everything – we are no different to any other family. Actually, we are probably luckier than many families as my writing skills allow me to work from home and my husband is a very good gardener. Nonetheless, like most families I have been worried about Christmas. The children have been sick for two weeks and so have I which means no writing. And I've needed my husband's help as we have been to after hours and back and to the GP again and eventually calling an ambulance after a fever spiked again. It has been stressful.
And then this.
And inside a koha for us.
These letters of love and koha I get are almost always anonymous. If you are behind this one or any of the letters I've received this year – thank you. I love this community so much.
I am bewildered but overwhelmed by the way you all continue to support me and lift me up. And I love that you do this to all of the other parents who comment here. I do believe we have one of the nicest comments sections on the internet.
Again, thank you. Thank you for holding out a hand through the fog of sleep derivation. And for those who are through that stage, thank you for listening and supporting and for remembering what it's like. Thank you for encouraging us all to raise our voices and speak out – to share our experiences of anxiety and depression and fear.
Thank you for not saying in my day or telling us to enjoy every second of every minute of every day. Thank you for celebrating with us when we cherish moments because they're really special.
I hope this won't be my last blog for the year. If it is I'll say now – Merry Christmas and Happy New Year. May the first relative who gives you unsolicited advice choke on their brandy. May your nights be quiet, and may your days begin well after 5am. May your little ones go to sleep easily and stay asleep. May you have a hot cup of coffee and a cold something stronger. May all the noisy toys you're gifted mysteriously break within hours.
If 2015 has been painful for you I hope you are surrounded by love and kindness to get you through these last days.
I hope your 2016 is as wonderful as you are.
It does take a village.
From the bottom of my heart, thanks for being the best fucking village ever.
Love Emily, Eddie & Ham
x
**
If you liked this, follow me on Facebook for more of the same. I'm on Instagram too!