Posted on October 9, 2017
An update!
I know I haven't been around these traps for a while. So I thought I'd just give an update.
I'm speaking at a bunch of events across the country over the next few months – you can find all of those dates here. My book is still available at all good bookstores (ask for it if you can't find it) or order it online here.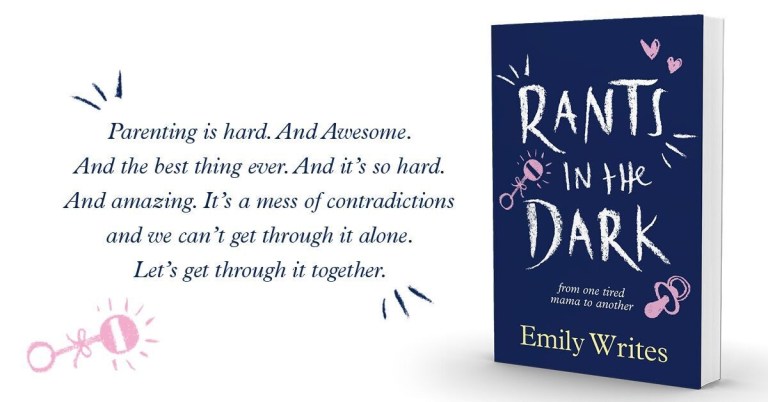 We have another Wine Mum Night scheduled for Friday. It's for The Spinoff Parents' First Birthday Party – hopefully I'll be throwing dildos at everyone like some kind of Sex-Crazed Oprah thanks to the generosity of the best sex shop Peaches and Cream. Every cent goes to Evolve Youth Health Services Wellington. They do amazing work helping our young people who are struggling. Buy tickets here.
I am taking a short break from Twitter because it's a cesspit and it seems to attract horrible assholes and proximity to these festering turds is not good for my mental health. (Edit: I don't know what has been going on on Twitter over the weekend because I haven't been on there. So this shouldn't be seen as agreement with any old white men who have left the platform like Old Man Hoots who you know I can't stand. I'm just tired of that merry band of losers who subtweet me all the time to goad me into responses because they live for my attention because their lives are empty and sad. I mean why are you reading if you hate me? Why are you reading parenting posts when you hate kids and mothers? Get a hobby! This isn't healthy!) But you can still find me on Facebook where I think people are often nicer because their friends and family can see their comments (if they have friends and family – maybe they don't and that's the problem).
I'm still editing The Spinoff Parents.  Here are some posts I've written recently. As always, thank you for reading them, sharing them, saying nice things about them. I really, really appreciate it. I feel very lucky to do what I do, and it's only because of you. x
My son is turning five tomorrow – Birthdays are a celebration, especially for children. My son talks about growing up "a size". He says "When I am a size bigger I will still be your baby". He tells me when he sees my brow furrow "that did you know mama, did you know that daddy is so tall as the ceiling but Nanna still call him her baby boy mama. Did you know that?"
How to make friends when you're a new mum – And nobody has their shit together. Not every day anyway. Making friends is hard, it's especially hard when you are exhausted and you're doing this new thing which takes all of your energy and all of your love. When you have a baby it's like you forever have your heart living outside of your body. Things that hurt feel like they hurt more. So much more. Life is tough and amazing and beautiful and terrifying. It's a big deal. You're not a loser. Trust me.
So, I joined a gym…. – Nobody told me how intensely physical mothering is. When I pick up the children from kindy they run to me and leap. They know I will catch them. They stroke my neck, play with my ears, pull my hair to steer me during piggy back rides. They sleep in the space between my chest and shoulder, arms stretched, framing this face of mine that they cover in kisses. They play tickle mum's feet and they lift up my top to reveal "The Belly Monster". My round tum has morphed from something I never liked into something that makes my babies scream with laughter.
I'm sorry to my friends without kids – I am sorry for the times I have turned down hanging out. I am aware this is basically every time you ask to hang out. I am sorry. It's because I'm scared to come to your house because it's a child-free utopia. It's beautiful. I want to live there. Sometimes I have dreams about sitting in your skin and living your life. But I can't tell you that, because it's fucking creepy. I love you, but your couch is white. I cannot come to your house with my monstrous albeit gorgeous and undeniably adorable children.
What I wish my children knew – Because soon my little four year old will be five. He'll go to school and learn even more. And I hope he'll carry the lessons he's taught us with him. I think about what he knows when I feel overwhelmed or hopeless at the news on TV. The big difference all of us can make – no matter our age or size or what we have or where we live – is something I hope we can all hold tight to forever. No matter how old we all get.
Don't like kids? Then stop chasing the parenting dollar – You've all seen it. The stories are all ridiculous and boring. The truth is stretched so hard it's amazing these moaners don't need ACC support for their injuries. A child was heard instead of just seen: better have a word to mum, tell her to finish the only meal she'll get to have out of her house this month and tell her to leave. But how do you do it while still making sure you get that sweet parenting dollar?
Is the advice on co-sleeping actually realistic? – "What am I meant to do?" I sobbed to my husband. The baby cluster fed for hours – he wasn't an efficient feeder because of his breathing condition. How was I meant to stay awake night after night after night?
The birds, bees, Boomers, and banging – Talking about consent with your kids weighs incredibly heavy on the minds of Gen X and Y parents because many of us bear the scars of growing up in a rape culture. We want to spare our children from some of the things we went through. We want to protect our kids while encouraging them to live their true selves – because some of us have lost queer or transgender friends at the hands of society's toxic, suffocating and hateful attitude to sexuality and gender. This is serious stuff and we want to get it right.
We have a post-natal depression epidemic and it's killing mothers – I called my husband and cried down the phone. He found me and he jumped out of the car with it still running. He sat in the wet dirt with me and we cried.
How to survive the school holidays – While your children watch 1600 hours of Paw Patrol, scroll through the Facebook pages of your friends who don't have kids. Oh look – she's just come back from Ibiza and bought a house. She has three pug dogs and her own business. Hide in the toilet so your children can't hear you crying. She's going to Paris for a vow renewal with her husband. Your husband taught the kids to fart in their hand and now they keep coming up to you and blowing fart residue in your face. CLOSE YOUR EYES AND IMAGINE PARIS.
How to survive severe sleep deprivation – by someone who is living it – Babies do, and are totally meant to, wake frequently. They wake frequently for a number of reasons – they're hungry, wet, cold, they exist in the world, they are upset that they don't have enough hair, they had a dream where they got put in a pelican's mouth…the list goes on. Sometimes we know the reasons why they wake up, but often we have no idea. And this also is totally normal.
Five things parents need to stop doing right now – 4. Stop watching tutorials on how to give your husband a home vasectomy while he's sleeping. I know he deserves it. But look, not all balls are made the same. And if you fuck it up it's going to be an issue. I recommend Dr Libby's highly underrated 127th cookbook How To Kill His Sperm with Kombucha And Other Homestyle Frozen Chicken Nugget Options.
Lessons from almost being hit by a bus – My life had flashed before me – Dwayne The Rock Johnson running along a beach, the bartender at Ivy winking at me as she gave me a "big pour", Zac Efron and Alexander Skarsgård helping each other put baby oil on their muscles, Jason Momoa emerging from a body of water. Idris Elba saying "I am aware of the effect I have on women".  Then my children. My favourite first and then the other one. My husband. The 1968 Alice Cooper Sunset Strip tee shirt that my uncle has that still hasn't been passed down to me. A spa pool I would never own. Lemmy at the gates of Hell holding a bottle of Jack and a packet of Marlborough Reds.
Surviving Wine Mum Night – When mums get a night off, it's a big deal. Spinoff Parents editor Emily Writes delves deep into the Wine Mum Night phenomenon with an anatomy of a night out without husbands, wives or children.
Arohanui – Ngā mihi nui