Paris 5.59 review: Come for the orgy, stay for the romance
What can I say about Paris: 5.59 given all you want to hear about is the orgy that kicks off the movie?
Let's just get down to it. Grab a (stiff) drink and I'll explain the ins and outs of the scene. It's actually really hard to put into words… I will premise this by saying I've been in exactly zero orgies. I haven't even been orgy-adjacent. I'm a suburban mum of two who is married and monogamous.
I'm guessing orgies in Wellington are few and far between, but I wouldn't really know to be honest. There could be a thriving and throbbing scene out there but I wouldn't know. Unfortunately we never discuss orgies at the kindy gate.
If I were invited to an orgy. I'd be the one in the comfortable seat in the corner just sipping on tea, fully clothed, giving positive verbal reassurance because I'm a people pleaser. Just, you know, "Well done, he seems to be really enjoying that," and, "Good job, sweetheart, you're being very thorough."
I'm unsure if orgies really need someone in the corner just giving the thumbs up and offering refreshments – you know, cut oranges or something – but if there is such a role, that would be what I'd be doing at an orgy.
With that being said, I can say that this orgy looked like the most fun orgy I've witnessed. Out of the one orgy, this one, that I've witnessed. So well done to the organisers, or um film-makers, because there were plenty of supplies and everyone seemed to have a wonderful time.
I imagine it's very hard to organise an orgy, so I just wanted to give that positive feedback. It was well-lit despite being in what looked like a cave. There were plenty of supplies in handy dispensers. There were lockers for clothing so nobody was tripping over anyone's bags. Well done.
So, what can be said of the rest of the film? It's a lovely film. I wasn't expecting it to be so romantic, given that I saw more dicks in the first five minutes than I've seen in my entire 31 years on this planet. Was that hypocritical of me? That I thought a movie couldn't be a romance just because of all the dicks? Did I judge a dick by its cover?
I was wrong. Paris 5.59 is a passionate and lovely film. You'll fall in love with Paris at dawn. You'll fall in love with our romantic leads, Theo and Hugo. You'll laugh and maybe cry. It's actually quite a traditional love story – but it's also modern and messy. With heaps of dicks. What's not to love?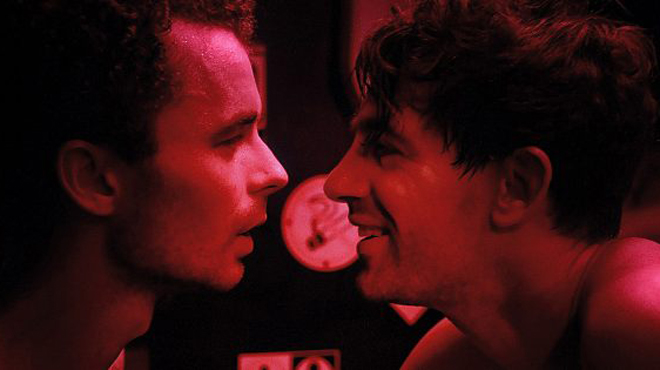 This post was originally published online for Metro Magazine.