Wine Mum Night
So I've been thinking…
Winter is bleak.
My kids have been sick non-stop.
I had the best night out recently (so great I wrote about the joy of Wine Mum Nights).
And when I saw all the comments on that post – I thought: We really need a huge Wine Mum Night. Like, we need it bad. Depths of winter Wine Mum Night to warm our spirits and get us feeling jolly.
So that's what we are doing. Getting away from all the snot for one night!
You know what we need to do. We need to have a Wine Mum Night.
You, me, all the girls. For a good cause.
And then, because I fucking love raffles – I was like, I'm going to have a raffle. But I'm going to have the raffle to end all raffles. What's the one thing that mums want – sleep. OK, well, can't give you that and I tried to get you a night in a hotel but every hotel in Wellington is stingy as shit and won't donate ONE NIGHT to a good cause.
But – I got the second best thing! A VASECTOMY! That's right. We are going to have a Wine Mum Night and we are going to raffle off a vasectomy! Thank you Wellington Vasectomy Clinic!!
And then I thought, OK some people might not need one so I've also got ANOTHER HUGE RAFFLE. And because I hate it when there's only one raffle and one person wins EVERYTHING we are going to have rolling raffles ALL NIGHT LONG.
And it's all thanks to Fringe Bar who gave us a venue and also to the best businesses in the world who donated such great stuff for me to give away.
I'm going to be like a drunk Oprah.
And every cent raised is going to a local kindy. Because kindys have been screwed over by terrible fucking funding cuts and they need money.
So you're going to come yes? You're going to get all your girls and buy a ticket! Tickets are on a sliding scale $15-$20, $25 if you want to be super generous. They include an entry to the Vasectomy raffle and the door prize raffle. You can also buy MORE TICKETS on the night because FREEDOM.
Also you can tell me what song we have to play to get you whipping off your spanx and throwing your nude-coloured milk-stained maternity bra into the air.
I'll be there and I will not be sober.
We will kick off at about 7pm at Fringe Bar and the vasectomy raffle will be at 9.30pm.
Bring cash because as I said we will have rolling raffles through the night and you can sign up to the prizes you want the most. We have had donations from: L'Oréal NZ (a HUGE pack), Penguin Randomhouse (all the best books), Flick Electric (free power with New Zealand's absolute best power company), Unity Books (best bookstore in the universe), Munch Cupboard (best + cutest + most practical stuff), the authors of Promised Land (the most ADORABLE book – my son's fave), SleepyTot (only good sleep stuff out there), BABU (my fave online store), Mr Green Carpets (You know your carpets are fucking disgusting), Toby Morris (One of New Zealand's best childrens' book author and our fave cartoonist ever, author of my baby's fave book Capsicum Capsi Go), Eardrop's Journeys (So good for teaching bubs new words!), Natural Parent magazine (a beautiful magazine with gorgeous articles – they even publish me!), KidKind (the goodest of good causes), Aasana Day Spa (Lush massages), Eskimo Nell (Babein' clothes for mamas), The Green Party (#ChangeTheGovt), Miniatures Stage Tour: Thunderbirds Are Go (Kept my four year old's attention for an hour WTF! usually he's a five second wonder), Mudmates (Umm their pink and navy all-in-one mud suit is my fave thing ever), Jack and Jill Kids (tooth brushes and tooth paste for kids!), North End Brewing (BEER), and Double Denim (BABES!). And so much more to come (if you want to get in on giving you can email me at emilywritesnz @ gmail.com in return I will be so grateful it will become awkward).
And of course our PLATINUM SPONSORS (I don't really know what that means but it sounds fancy) Fringe Bar (my fave bar), Lil Regie (So great!), Chris Tse (My bestie), and Wellington Vasectomy Clinic (snip snip!).
So you want to win right? You're coming right?
Buy your ticket here.
21 July
Fringe Bar
7pm until we all fall asleep at probably 10pm but we will try to stay awake because we have the bar ALL NIGHT LONG.
I asked my bestie to make me a poster and I said to him – Can you do like Beyonce and The Rock and wine and then I was like Alexander Skarsgard riding a bottle of pinot gris. And he's going to just keep making us amazing posters because he is a beautiful prince.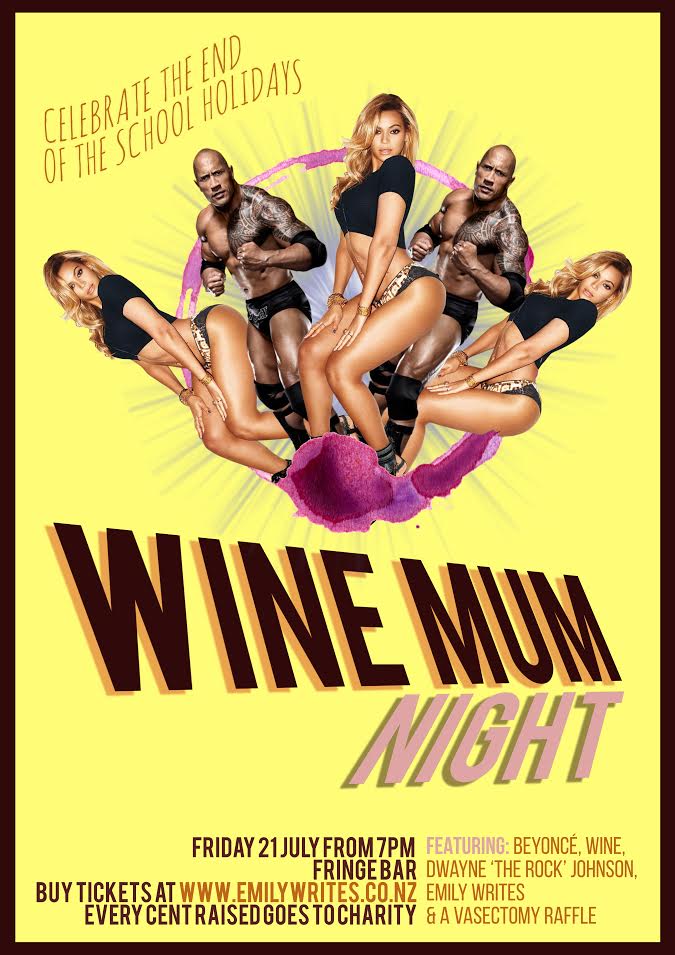 Just to upset him I made this with his favourite font Comic Sans.