Posted on October 7, 2015
Let kids be kids?
It seems that the phrase Let Kids Be Kids is having a resurgence. Don't get me wrong – I'm into it. In fact, I say it a lot. And I believe it. But sometimes I'm astounded by the hypocrisy shown by people who trumpet this important mantra. They say it over and over again, but it just doesn't ring true to me – because these same people only believe kids should be allowed to be kids when it suits them and their beliefs about what it is to be a child.
How a child should think and act.
Let Kids Be Kids comes up when there are discussions about morality. And yeah – usually, I'm on side with a lot of those. I'm not a fan of sexualised clothing and media aimed at (or exposed to) children. But that's an easy thing to not be a fan of.
Kids shouldn't watch porn. Well duh. Who the Hell is going to argue with that?
Where the rubber hits the road when it comes to the Let Kids Be Kids philosophy is when it's about allowing children to BE who they are. Free from limitations enforced by oppression and bigotry. But, I have seen parents talk about how they'll never let their daughter wear a string bikini because Kids Need To Be Kids but then in the same breath fall over themselves because they can't gender-police a child who when dressed (how they as a child want to dress) doesn't make clear what their gender is.
I have watched people splutter and sweat over how apparently entirely inappropriate it is for little boys to wear princess dresses or tutus or lipstick or necklaces. My son's penchant for dainty floral headbands has caused many pulsing rage veins in the various necks of adults who really, really shouldn't care what a child is wearing.
I have people insist I'm picking his clothes for him – That there's no way a boy would choose to wear pink or something sparkly. I must be influencing him. Yet nobody ever suggests there is any influencing happening when little boys "just love trucks and think pink is a yucky colour". How convenient for gender norms!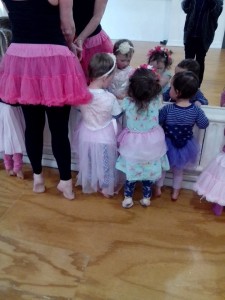 If you really think about it – there's literally nothing weirder and creepier than a grown adult getting upset that a child hasn't appropriately dressed to identify their genitals. Because let's face it – these are people who believe genitals equals gender.
But – there is at least dialogue going on in this area to challenge and reject that rhetoric. There are many great people like Rachel Hansen setting up amazing things like Freedom Kids to address the issue of heavily gendered childrens' clothing.
What I want to talk about is what I call Normal Toddler Behaviour. Also known as – tantrums.
Here's my Let Kids Be Kids view:
Tantrums are normal and healthy and helpful. Don't get me wrong – they fucking suck for parents. My heart (and head to be honest) hurts sometimes when I see my son struggling with his feelings and feeling overwhelmed. I want to put everything in order for him, help him contain all of the bubbling emotions, support him through the scary pressure he has welling up within him. That to me is my job as a parent – when he's having a hard time, I have to help him through it.
But the fact that he needs help? Normal. Completely normal. Toddlers are not adults with developed brains. There are people in their 20s, their 30s, hell there are people at the end of their lives at 80 and 90, who struggle to keep their emotions in check. We allow that (to an extent) so why do we INSIST (some parents with actual brutal force) that children must keep themselves in control of their changing emotions and hormones at all times?
We so encourage learning – Oh you can count! Wonderful! Draw a house! Write your name! But it seems learning how to be – how to manage your feelings, name them, work with them, adapt, change – is some kind of secret process that only happens by shutting the Hell up in public and keeping away from any nearby adults.
How often have you had to rush away from a public place because you're getting glares because your toddler is going through Normal Toddler Feelings? How many times have you had to sit through lectures about how to "control" your child. How to get them to bend to your will, obey you, be quiet – as if that's "good behaviour" because they're not acting like ummm children.
So what would happen if everyone just accepted that children get overwhelmed sometimes and can't process things and get scared and stressed and their feelings explode a bit every now and then? How would the world change? For children? For their parents? For society as a whole?
What if we didn't have to bundle children into cars and race from public places and make them QUIET and make them smaller and make them take up less space because even if they're not having a terrible tantrum they might have a terrible tantrum!
At my son's birthday one of his little besties became overwhelmed by everything and got very upset. Normal toddler behaviour. Her lovely parents cuddled her, talked to her, took her outside for some space, negotiated, helped her through this hard time she was having. At the time I'm sure it was overwhelming for them – but all I kept thinking about was what a wonderful little girl she is. She's clever and funny and sassy and adorable and spirited and happy! She has this incredible little magical grin. My son adores her. I adore her! Her parents adore her.
I also thought – thank God they're comfortable here that they don't feel like they have to go home. Because nobody at the party minded at all – because here, I'm saying it again: It's normal toddler behaviour. Normal. All toddlers do it. Every one. They're learning. Every day.
This wonderous little sprite has parents who are helping her learn. She's learning. They're learning. We are all in this together, making space so our kids can grow freely and BE KIDS.
She quickly settled down in time to do a beautiful OH MY GOODNESS reaction to a visit from Elsa to the party – and I'm so glad she didn't miss that. She had a wonderful morning.
How many great little life moments do our kids and their parents miss out on because so many people won't let them be kids? Insist they're seen and not heard – and sometimes not even seen. That a child crying is just too much for us to handle in a public space?
Pffft. Let kids be kids. A tantrum is normal. That child is learning. The parents are learning. You can learn to – learn to make space for children and let them grow.
***
If you liked this, follow me on Facebook for more of the same. I'm on Instagram too!