Not even close to perfect
I managed to get both kids to sleep at the same time today. It's difficult to describe just how great I felt at this momentous achievement. I am guessing (obviously, I mean look at me) that it feels exactly the same when you reach the summit of Mount Everest. Euphoric. Slightly out of breath. Sweaty.
I was so smug about it I felt like I deserved a glass of wine – but I didn't have one since it was only 1pm and even though it has been a hard week I can't quite justify 1pm wine. Maybe tomorrow.
So instead of wine I went on Facebook which is nowhere near as satisfying as wine. I was scrolling through and I saw this: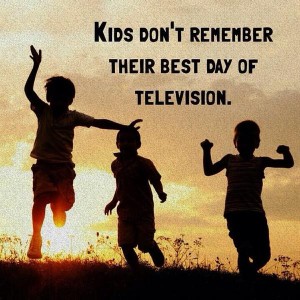 God give me strength. As if any child playing outside looks like that. And the actual message here – Just eff off mate. You don't have to be making memories every fucking second of every fucking day. So you don't have TV, awesome. I didn't have TV for the first 10 months. Then I got it and I can't even put into words how much better my life is. Sometimes I see articles about people who marry appliances and for a second I look at my TV and think…well…
I digress (really, I'm sorry if you got a mental image then).
Look, you're clearly a better mother than I. You win. I'm not even interested in playing because I would lose my damn mind if I didn't have television to entertain my toddler for half an hour while I do eight loads of washing and feed my baby. Yes, there are other ways I could keep him occupied, but TV works best. So that's what I do.
Just going to keep scrolling and…are..you…serious…right…now?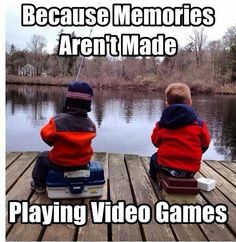 Well I definitely remember being drunk as all Hell playing Crash Bandicoot when I was 17 so I just don't agree with that at all.

A few minutes? That's all I need to give them? Why didn't someone tell me sooner. I have been spending all day with the little *ahem* angels.  I've been *grits teeth* respectfully parenting for every single second, of every minute, or every hour, of every day. And trust me, I've felt every minute.
Deep breath. Keep scrolling.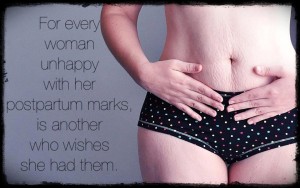 I've got to be grateful for stretch marks now?
Where does it end?
What is the purpose of these damn trolling Pinterest meme things? If they're not to make you feel like shit or feel sanctimonious then they're failing. Because that's literally the only two reactions you can have to these things.
Like if you see that one and say 'Yeah! Tiger Stripes! I earned these! I'm grateful every second of every day and I'm a good person!' cool. You do you. More power to you.
And also, I seriously believe loving your body can be a revolutionary act. That's not my point here.
When I read it I'm like – you know what? I'm a feminist. I am all about body positivity. I rocked a bikini when I was preggo. And some days I hate my body. I loathe it. I try really, really hard to feel good about how I look after two kids. But it's really hard. Some days I really hate my body. And you know what – I sometimes resent my kids because my body feels and looks so ruined some days. There, I said it. I'm clearly a monster. I should take my children to the firehouse and drop them off so someone with higher self esteem than me can take them. That'll teach me.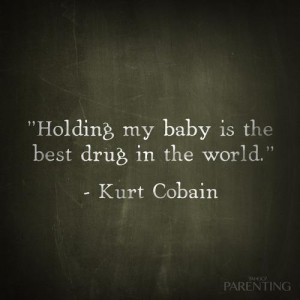 I can't even. I tried to even. And I couldn't even even.
Can we please inject some reality into these? Good god. You can be you. You can be an imperfect parent. You don't have to be a Pinterest mum who does everything right all of the time. I lose my shit sometimes (often) and yell at my husband. I say sorry. Our marriage is fine.
I get so damn frustrated with my son when he absolutely refuses to change out of a pair of shorts when it's two degrees outside and we miss the bus and the whole day feels ruined. It's OK to get frustrated sometimes! My son is seeing that mama is a real person who gets tired and frustrated some times. He also sees that mama still loves him because this is just life – people get upset. It doesn't mean they don't care!
It's OK to call your baby a little asshole under your breath when it's 3am and they've woken up for the fifteenth time and you are totally exhausted. You're still getting up and cuddling them, feeding them, loving them. You're allowed to be shitty about not getting sleep. You're not allowed to put the Moses basket outside and let neighbourhood cats raise your child.
It's alright to throw your kids at your partner as soon as they walk through the door after a day of work. You're allowed to have bad days. People have bad days at work, you're allowed to have bad days because you're working too. It's just that your employers are tiny tyrants who won't eat fruit.
You're not a bad parent because you put on TV or let your kid play on the iPad or the computer or the playstation or if you don't make it outside for four days because the weather is shit and YOU ARE JUST TIRED. Being tired doesn't make you a bad parent. A bit of "screen time" *vom* won't kill your kid. You're a grown ass adult – you know what moderation is.
I'm not a great parent every minute of every day. Sometimes I'm only an adequate parent for an entire day. A week. Other times I ace that shit and when both kids are asleep at the end of the day I think 'damn, I'm good at this!' But you know what the truth is – kids don't need perfect parents. They just need people who love them to look after them and help them grow. Having a TV, hating your stretchmarks sometimes, being exhausted – that's OK. These are not inherently bad things. They definitely don't make you a bad parent.
I just want permission to be the parent I am. Tired but trying. Desperately in love with my kids. Failing often but never intentionally. I am teaching my children, but they're also teaching me. We're a work in progress and that's OK.
So I'm just going to sneakily paint Facebook with my own messages. The Not Perfect And Actually OK With That edition of Pinterest parenting crap.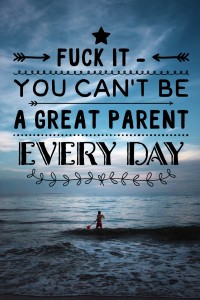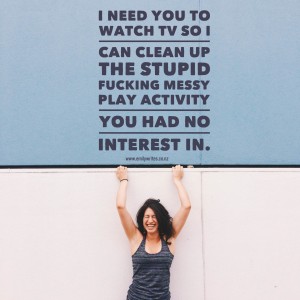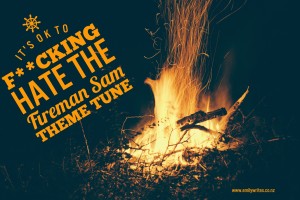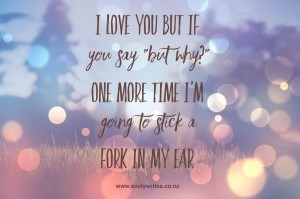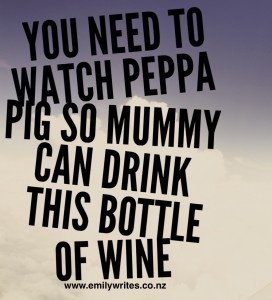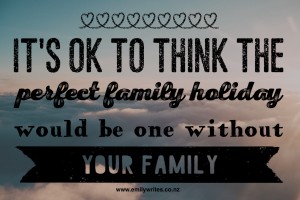 If you liked this, follow me on Facebook for more of the same. I'm on Instagram too!