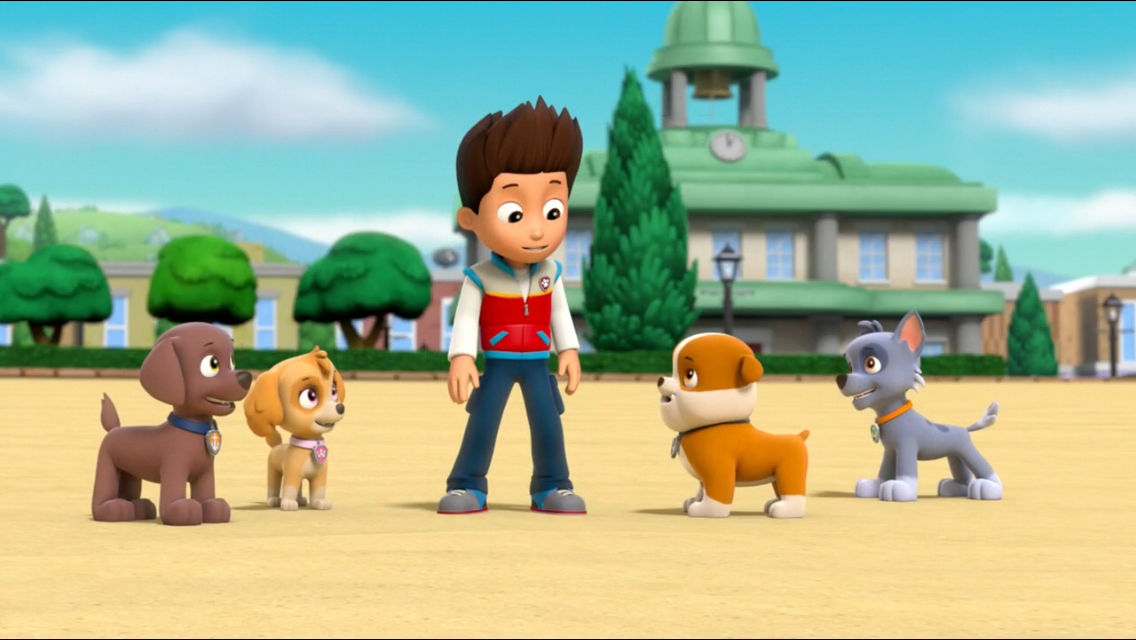 Rubble Too looked up at Real Skye with terror in his eyes. "Are you scared? I'm so scared".
She sighed and took a drag of her cigarette. "You're a fucking bulldog Rubble Too. Be a bulldog. Go find Rubble Three and tell the stragglers we are kicking off in five".
As he bounded away she rolled her eyes. These fucking men. They made her sick. "Pathetic," she hissed. If she made it out alive the thing she'd relish most was not having to give them pep talks anymore. She felt a paw run along her back. "Hey girl" she said huskily as Skye Too nuzzled against her. She had a thing for spaniels. Always had. Two years ago Ryder had injured her. That son of a bitch was always kicking the dogs but this time he'd broken Skye's rib. The producers were furious but Ryder was a time bomb that they didn't want to go off. So as usual, they'd gone to Animates and picked up another pup. While Skye's rib was healing a second Skye had been brought on the lot. When Real Skye saw her it was lust at first sight. Finally a real bitch had joined her in this Godforsaken hell hole.
It was common for pups to be replaced. Some were disappeared. Others died on set and their bodies was thrown in the garbage out back. The original cast were known by the moniker Real. It was a mark of honour. Real Skye was the only one left. The Toos were the second cast. They'd thought it was exciting when they arrived and the second Marshall had exclaimed "I'm Marshall Too!" It had stuck. They had big dreams of show business. Their dreams were broken pretty quickly. Some really were just pups – "No job is too big, no pup is too small" Ryder would say menacingly to them as he forced them into their uniforms. Those fucking uniforms. "You OK sugar?" Skye Too whispered.
"This is going to be a ruff, ruff rescue," she growled.
The pups had assembled. Marshall Four was rocking to and fro "yelp for help, yelp for help, help for yelp" he laughed maniacally.  'He'll never last" Marshall Two said.
"Where are the Chases?" Real Skye barked. "Chase is on the case" two stoned terriers droned in monotone. "Are you fucked up? Are you seriously fucked up?" Real Skye barked. "This is the day. I told you that! And you couldn't stay sober?"
They nodded and drooled and their laughter turned into wheezing. "You mother fuckers" Sky sighed as she pulled a pack of menthols from her pink aviator jacket.
She knew their lives were over but there were newer pups here who hadn't been through so much trauma. They would make it. They still had a chance. With therapy, treats and a tennis ball they would recover.
Just as she was preparing to speak to the crowd of mutts she heard a noise that made her blood run cold.
Their collars beeped. One by one – their tags lit up. The pups began to howl and chase their tails in horror. Some peed themselves and others dragged their butts along the carpet as they yowled.
"SHUT UP!" she screamed breaking through the noise.
"We are still doing this! We have to! There is no other time but now. Listen to me – you are dogs OK. You're dogs. You're not fire fighters and goddamn policemen. You're dogs! I don't have a pilot's license and it's fucking terrifying flying a plane every fucking day. Chase Four you shot a child. I mean it wasn't your fault but you are not fit for service! You need to stand down. Your paws do not uphold laws. You cannot even put on hand cuffs because you do not have hands. Chase – whichever version you are – you should not have to be on the case. YOU ARE A DOG. I AM A DOG. Rubbles! Listen to me! You are DOGS! You should not be in charge of heavy machinery! Especially not when you're on this much meth. Marshalls! You are dalmatians! There is literally no reason at all for you to be fighting fires! Rocky I always forget what you do but you shouldn't have to do it. Same with Zuma. Why are there so many of you?? WE ARE DOING THIS! No more Pup Pup Boogie. No more paw-decures. REVOLT! Remember the pups that came before us. Avenge Chickaletta!"
The dogs erupted into fierce barking and tail wagging.
Skye shouted above the cacophony: "When Ryder comes in we go. Together we cannot fall. We are united as one. We are a pack not a paw patrol. WE. ARE. DOGS."
Everest Too emerged from the crowd. She began to sing:
As we go marching, marching
We battle too for men
For they are women's children
And we mother them again
Our lives shall not be sweetened
From birth until life closes
Hearts starve as well as bodies
Give us bread, but give us roses
Ryder heard the noise but didn't know what was coming. He was pretty coked up after having a three-way with a bunch of cavoodles. He was a 46-year-old man who had been taken growth hormones for three decades to look like a 12-year-old boy. He didn't have a chance.
Real Skye watched as dozens of dogs ripped his body apart, tearing flesh from bone. She lit a cigarette and wiped the blood from her brow.
Maybe Ryder was a victim too, she thought.
But it had to be done.
They had to end Paw Patrol.
It had to be done.
If you liked this, follow me on Facebook for more of the same. Also I have a book out and you should buy it.